Pack your bags, pop on your sunnies, and get ready for a churchy adventure that's sure to light up your Instagram feed and spirit alike. Now, I know what you're thinking: "Churches? Isn't that a Sunday thing?" Well, not the churches in Corfu. This gem of an island isn't just about sun-soaked beaches and tantalisingly tasty tavernas. Nope, Corfu boasts architectural wonders that, dare I say it, rival its coastline.
I'm going to show you my choices of the best chapels, churches, cathedrals, and monasteries in Corfu. From stripey fashion-forward facades to jaw-dropping sea views, Corfu's churches aren't just places of worship; they're iconic landmarks, storytelling spectacles, and photo ops that even your Nan would double-tap on Instagram. And the best bit? Each one's got its own cheeky character and tale to tell. It's like 'The Canterbury Tales' but sunnier, less Middle English, and, well, Grecian.
So, grab a frappe (when in Greece, right?), sit back, and let me whisk you away on a journey through the 12 must-see chapels, churches, cathedrals, and Monasteries of Corfu that are so divine, they'll have you shouting, "Holy Moly!" before you can say "Opa!" Ready? Let's dive into this ecclesiastical escapade.
1. Holy Church of Saint Spyridon (Agios Spyridonas)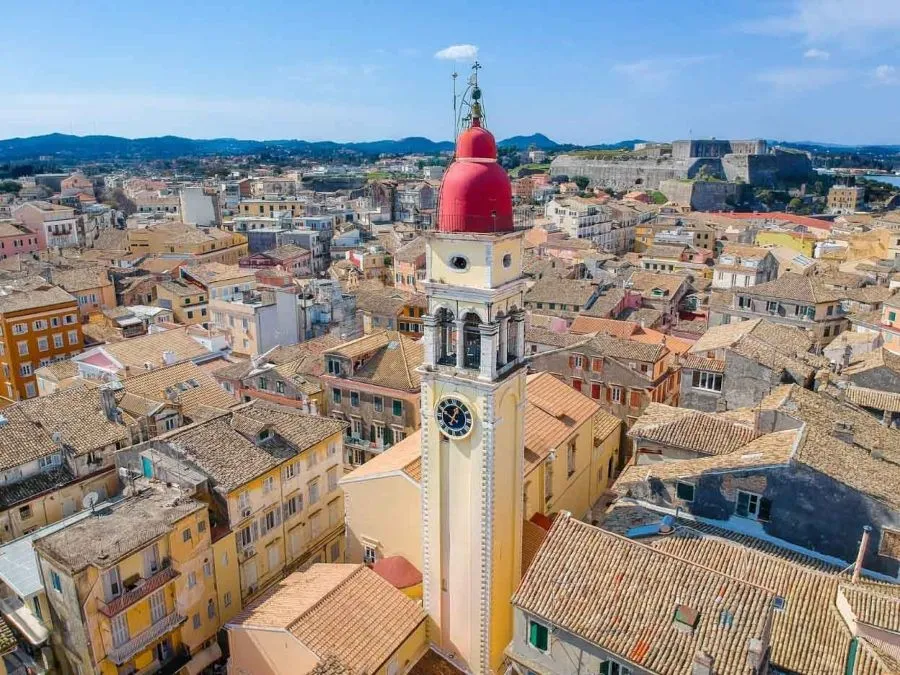 In the heart of Corfu Town, you'll stumble upon the Holy Church of Saint Spyridon, also known as Agios Spyridonas and Agios Spyridon Corfu. Built in the 1580s, this church is like a celebrity hotspot but for the pious. Dedicated to the patron saint of Corfu, this magnificent building was constructed by the Corfiots as an honour to Saint Spyridon. And why, you ask? Well, the Saint has been attributed to saving the island on multiple occasions. Inside, you'll find his remains, still working the miracle magic. A must-visit, whether you're seeking divine intervention or just a good old nose around.
2. Holy Church of Saint George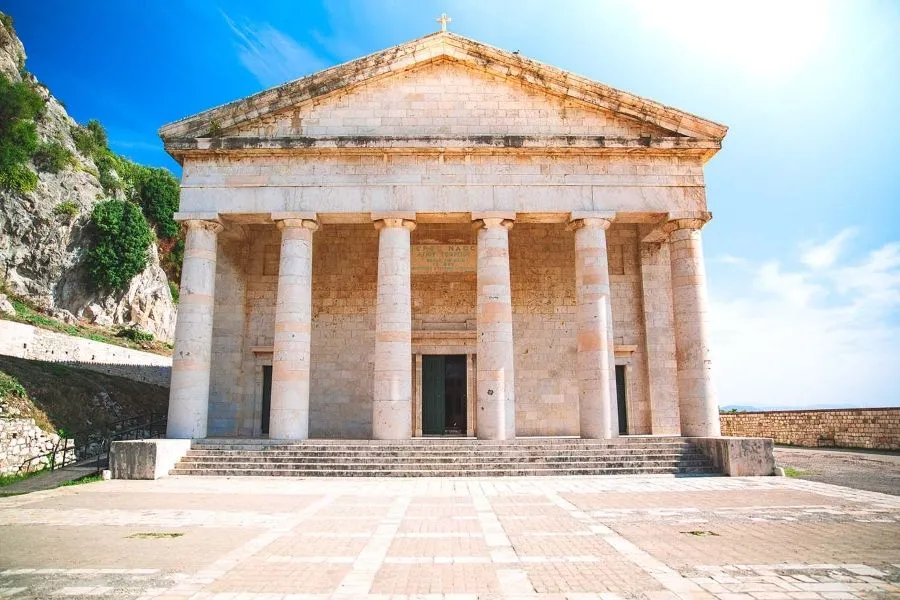 Take a wander through the Old Fortress in Corfu Town, and what's this? A Greek temple? Nope, it's the Church of Saint George! Constructed by the British in the 1840s, this church is a bit of a style rebel. Also known as the Old Fortress of Saint George, it's like the ancient architects decided to go rogue and build something Greek Orthodox with Doric flair. The why is simple; it was meant to double as a place of worship and a symbol of strength. The result? A building that makes you go, "Wow, that's not what I expected."
3. Cathedral of Saint James and Saint Christopher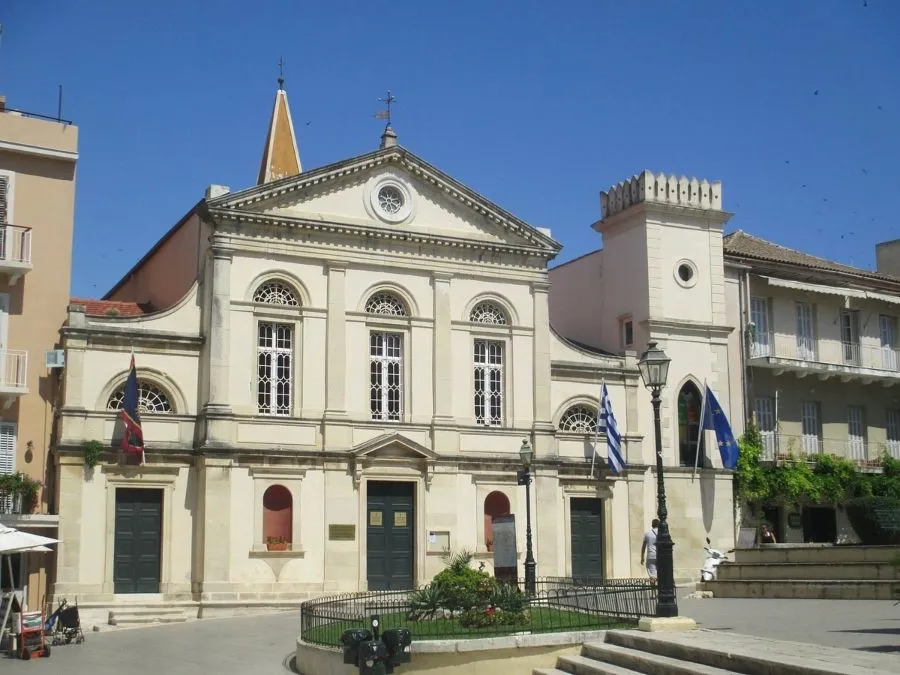 When strolling through Corfu Town, you can't miss the Cathedral of Saint James and Saint Christopher, also known by the Greek names Agios Iakovos and Agios Christoforos. Built in the late 16th century, it was designed to impress. And impress it does. This cathedral was created to honour Saint James and Saint Christopher, a pair of chaps known for their divine credentials. Step inside and find some of Corfu's most splendid religious art. A true masterpiece, if ever there was one.
4. Holy Monastery of Panagia Vlacherna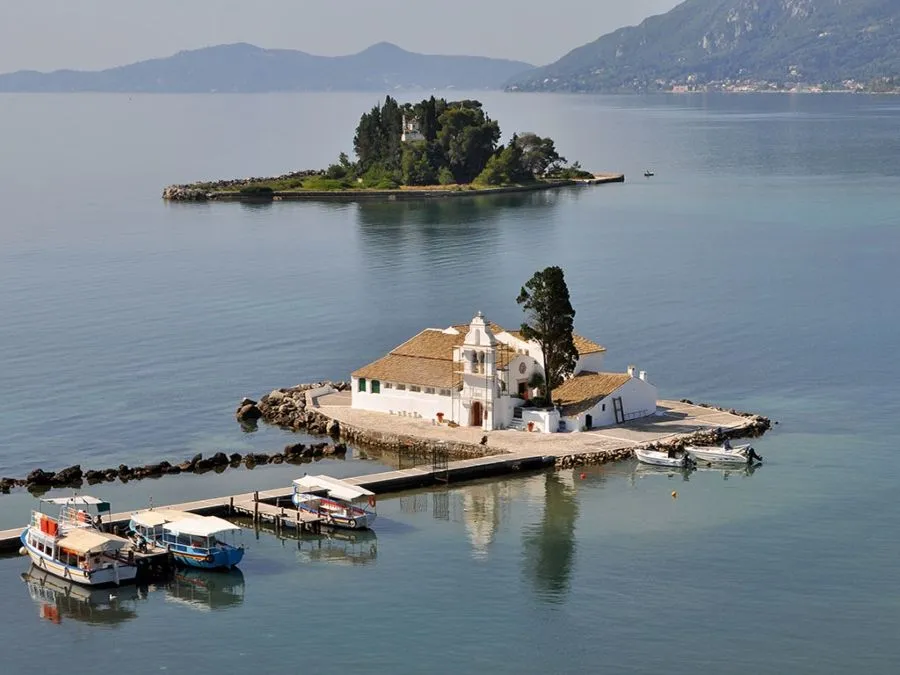 Ready for a coastal jaunt with a twist? Perched near Kanoni, the Holy Monastery of Panagia Vlacherna, also known as the Church of Panagia Vlacherna, sits like a dreamy enigma on its very own mini-island. This isn't your average 17th-century build. Imagine the chitchat among the builders: "Hey, where should we build the next church?" "Oh, just on that tiny islet where every sunrise makes the horizon blush" And that's how I like to think about why this beautiful church was built.
Connected by a slender causeway, it's like a divine catwalk inviting you for a strut. The church is a dedication to the Virgin Mary, and the legend says she loved a sea view (okay, maybe not, but who can blame her?). If there's a must-visit spot for meditation and mediation between sea and sky, this is it. Don't just visit; saunter, wander and, of course, ponder.
My Choice for Top 3 Tours on Corfu
5. Holy Church of the Holy Apostles Jason and Sosipater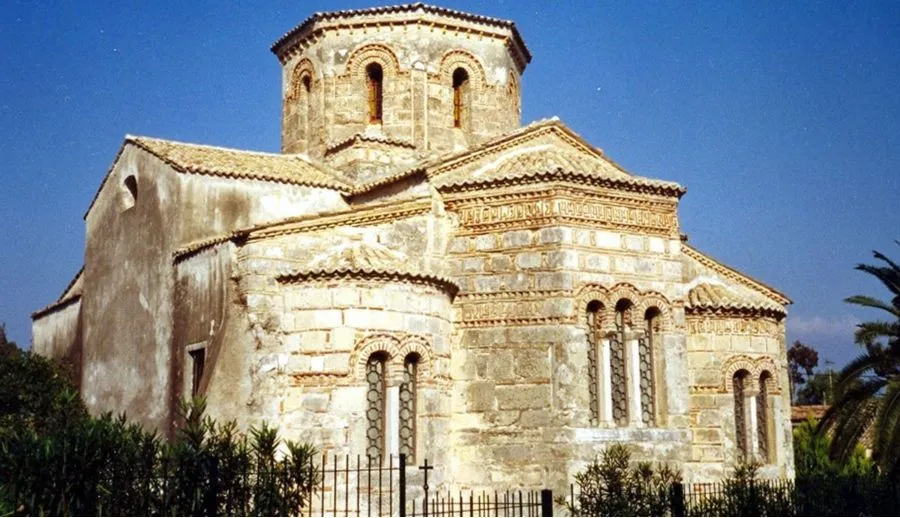 Let's swing by Corfu Town for some stripey splendour. Yes, you heard right. The Church of Saint Jason and Saint Sosipater stands tall, draped in iconic red and white stripes. Built in the 11th century, this isn't just an architectural marvel, it's a fashion statement. When the Byzantines put this masterpiece together, it was all about celebrating these two saints known for spreading the good word of Christianity. It's like they said, "Why not honour two legendary preachers of the gospel with a church that no one can possibly miss?" Step inside and be ready for a spiritual and visual feast.
6. Holy Monastery of the Virgin Mary Kassopitra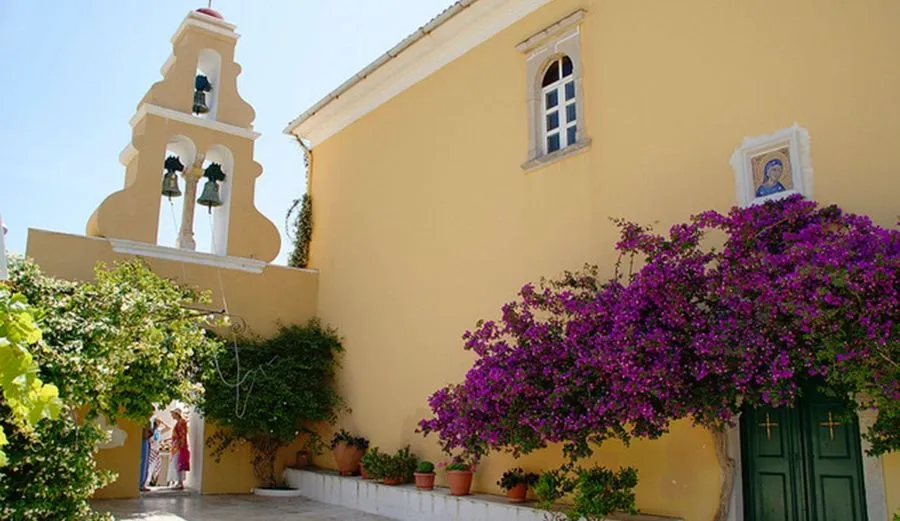 Elevate your spiritual journey – literally. You'll find the Monastery of the Virgin Mary on the hills of Paleokastritsa. Crafted in the 13th century, the monks who built this knew a thing or two about location, location, location. With panoramic vistas of the shimmering Ionian Sea, heaven and earth are a divine intersection. The monastery was dedicated to the Virgin Mary, perhaps because she too appreciated a room (or monastery) with a view. The interiors are a tapestry of time, with age-old icons and artefacts. And the outdoors? Let's just say if there's a monastery version of MTV Cribs, this place would be on it.
7. Church of Agios Nikolaos - Best of Churches in Corfu?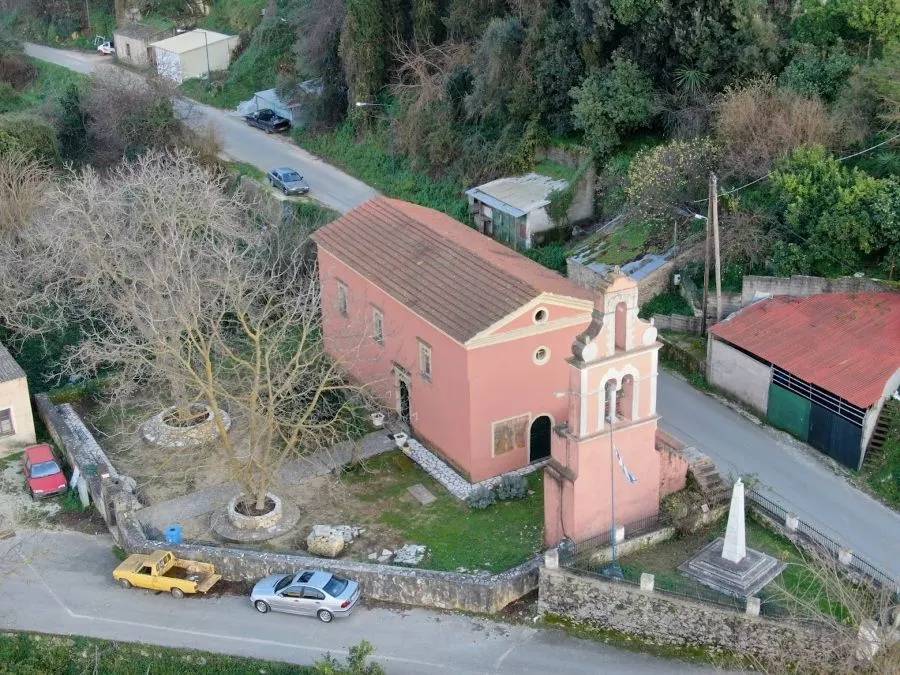 Step away from the bustling crowds and hustle towards the tranquil village of Nymfes, where the Church of Agios Nikolaos awaits with tales as old as time. Also known as Ieros Naos Agiou Nikolaou Nimfon, and not to be mistaken with every other "Agios Nikolaos" in Greece (trust me, there's a bunch), this one's got the countryside charm that's as refreshing as a cold ouzo on a hot day.
Established in the early 19th century, this church was the brainchild of the villagers. And who was it dedicated to? Saint Nikolaos, of course. He's the patron saint of seafarers, and even though Nymfes is a wee bit inland, many villagers had maritime connections.
Its location is no random pick. Legend whispers of an old man's dream where Saint Nikolaos, being the top bloke he is, urged the construction of a church near the village's famous waterfalls. Waking up inspired, the old chap rallied the troops, and soon, stones were laid, and hymns echoed.
8. Monastery of Pantokrator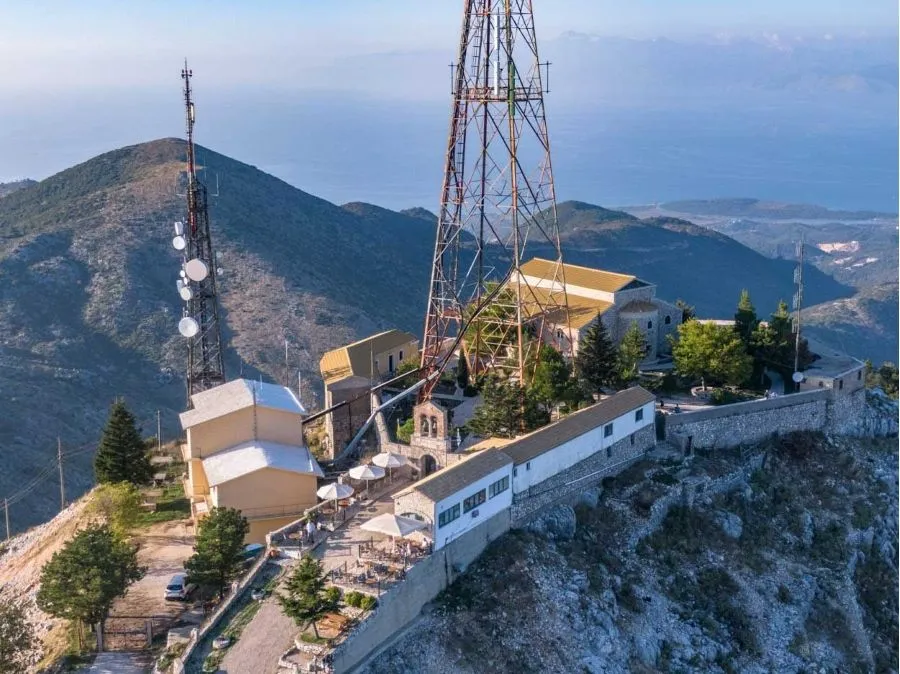 Ever thought of reaching out and touching the sky? Well, head over to Corfu's highest peak, Mount Pantokrator, and you're halfway there. Standing majestically atop is the Monastery of Pantokrator. Finished in the 17th century, it's a nod to when location was everything. Built to honour Christ the Pantokrator (or 'Almighty' for those scratching their heads), it offers serenity and a view to die for. On a good day, you can peer over at the neighbours in Albania and give them a cheeky wave. It's like two holidays in one. Seriously, whoever built this was a true visionary (pun very much intended).
9. Church of the Hypapante at Gouvia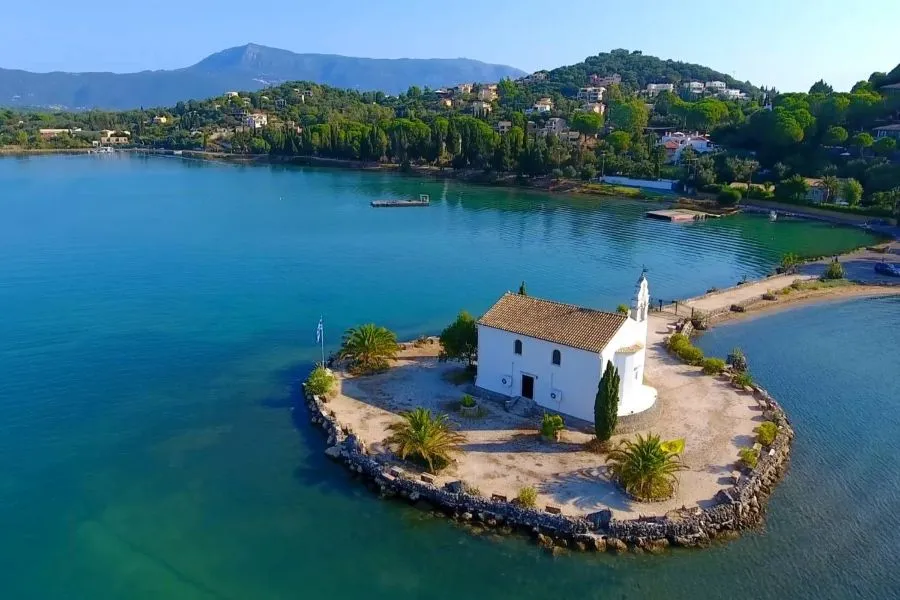 Hidden snugly in the verdant embrace of the Ropa Valley is the Church of Ypapanti, a 16th-century marvel. Think ancient Byzantine architecture but without the hustle and bustle of city life. This was crafted by genius builders who were either enormous fans of tranquillity or simply fancied a challenge building in a valley. The church is dedicated to the Presentation of Christ. It's the sort of place where you expect to bump into a wise old sage dishing out life advice. Word of advice: the ambience here is contagious; you might leave feeling more enlightened than you planned.
10. Holy Church of the Virgin Mary Kremasti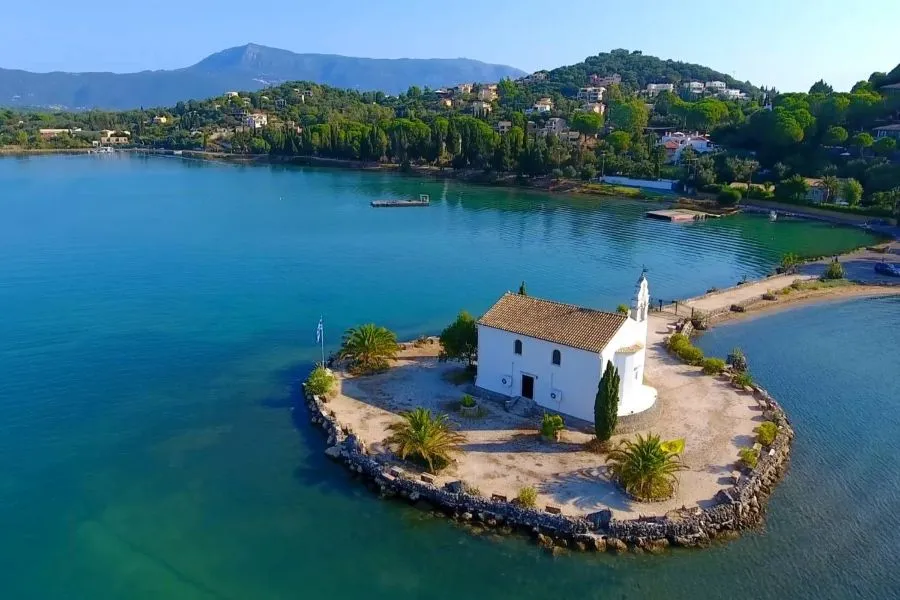 Ever played hide and seek with a church? No? Well, now's your chance! Nestled in the quaint village of Kynopiastes, is the Holy Church of the Virgin Mary Kremasti ("The Hanging Virgin Mary"). Also known as the Church of Panagia Kremasti, it is perhaps Corfu's best-kept secret. Built snugly against a cliff in the 17th century, legend has it that local shepherds were led here by a mysteriously glowing icon. Deciding this was clearly a divine nudge, they did what any sensible Corfiot would – erected a church right there. Because why not? It's known for its "floating" facade as if the Virgin Mary herself decided to hang about (literally).
11. Church of Agios Dimitrios
You're in for a treat if you've got a penchant for olive groves and an itch for a tad of spiritual meandering. Situated amidst the lush olive trees of central Corfu, the Church of Agios Dimitrios is where nature and divinity have a cheeky little rendezvous.
Built in the 19th century, the church was the handiwork of local farmers. Feeling grateful for their bountiful harvests, they dedicated this place to Saint Dimitrios, who watched over their crops and ensured the olives were always extra juicy.
Its alternate name? "The Green Church". Not because it's green, mind you, but due to its delightful setting amidst nature's emerald embrace.
12. Church of Agios Vasilios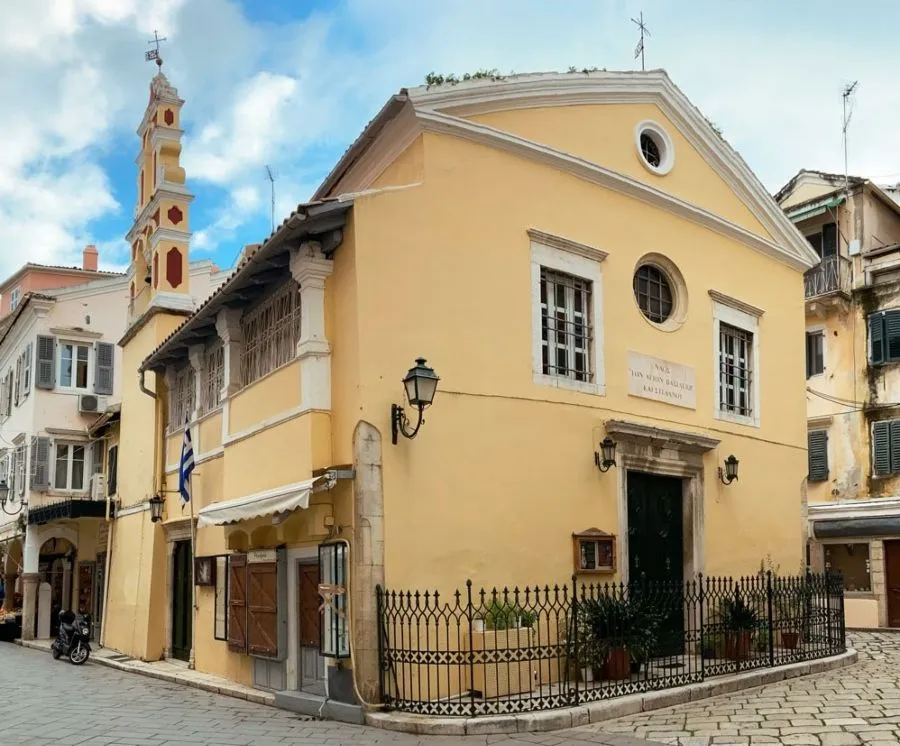 In the heart of the postcard-perfect village of Benitses, the Church of Agios Vasilios is the beating heart. Crafted lovingly in the 17th century, it's like a love letter to traditional Greek architecture. Built in honour of Saint Basil, it's a gentle reminder of days gone by. If this church had a voice, it'd probably sound like your granddad, narrating tales of old with a twinkle in his eye.
Corfu Church Check-list: Ticked, and Snapped,
And there we have it, folks. From the heights of Mount Pantokrator to the shores of Panagia Vlacherna, we've church-hopped our way through Corfu's most divine destinations. Who knew that a single island could pack so much heavenly punch? Well, probably the Greeks, but now we're all in the know too.
So, the next time someone mentions Corfu, and you instantly think of sandy beaches, slap a bit of "churchy charm" into that mental image. Go on, add a spire or two. And if you're ever feeling a tad uninspired on a dreary day, just remember there's a stripey church under the Grecian sun waiting for your visit. It's practically calling your name.
In conclusion, Corfu's chapels, churches, cathedrals, and monasteries are more than just buildings; they're age-old storytellers, spiritual retreats, and, let's face it, the backdrop to your next profile picture. Whether you're a history buff, an architecture aficionado, or simply on the hunt for a tan with a side of spirituality, Corfu's got you covered.