Ever found yourself lost in a daydream, feet buried in golden sands as you gazed at the crystal-clear waters of a beach in Greece? Well, pinch yourself because you're about to step into that dream with the best beaches on Kos. Nestled in the heart of the Dodecanese, Kos is more than just a dot on the map of Greece. It's a beach-lover's paradise, rich with tales of history, spirited adventures, and, of course, the occasional splash of a well-shaken cocktail.
As we set sail on this beachy journey, here's what you can expect: for each beachy gem, I'll unveil wherein Kos it is, whether it's a sandy haven or a pebbly retreat, and how organised they've got things (because some of us can't live without that sun lounger, am I right?). I'll uncover if it's family-friendly or a tad windy for those impromptu windsurfing lessons.
Maybe it's a secluded spot perfect for your next book or a snorkeller's dream. Watersports galore? Diving clubs? Or perhaps, a cheeky spot where swimsuits are, well, optional. I'll also dish the dirt on whether it's a dance-until-dawn party beach or a place where lifeguards keep a watchful eye. And for those driving around this island jewel, fret not – I'll tell if it also has parking.
So, slip on those sunnies and let's dive deep into the best beaches on Kos. Ready to ride the waves of discovery? Let's make some sandy footprints.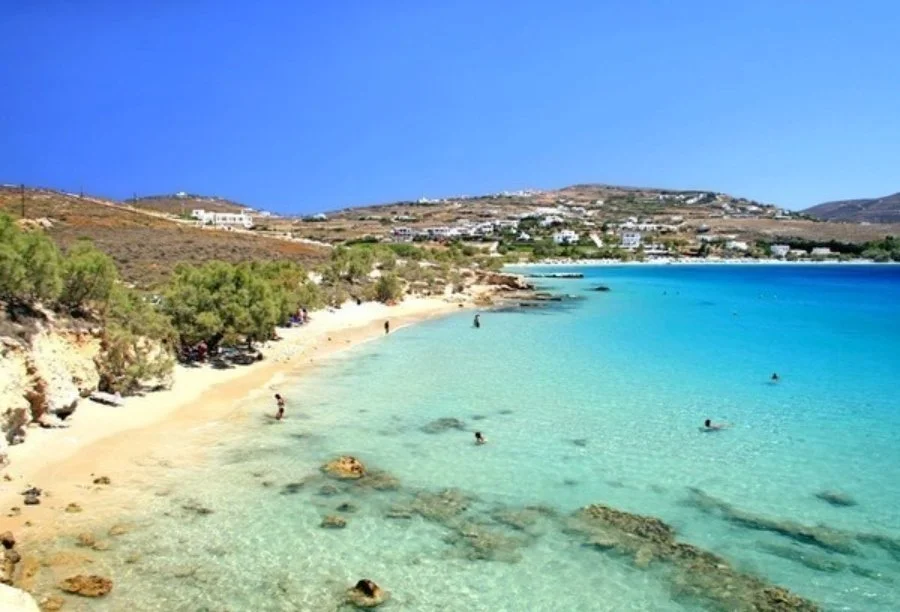 Journey a touch south of bustling Kos Town, and you'll encounter Agios Fokas in all its mesmerising splendour. A harmonious blend of sand and pebbles, this beach is the very definition of the Dodecanese beauty. Its partly organised nature ensures you get the best of both worlds: the conveniences of modern amenities juxtaposed with untouched Grecian charm.
Watersports might not be the star of the show here, but for snorkelling enthusiasts, the waters reveal an underwater world that's nothing short of magical. Parking? It's a breeze, giving you more time to enjoy the sun, sea, and sand. And while the waves might beckon and the winds whisper tales of old, always remember to stay safe, especially in areas where lifeguards aren't on patrol.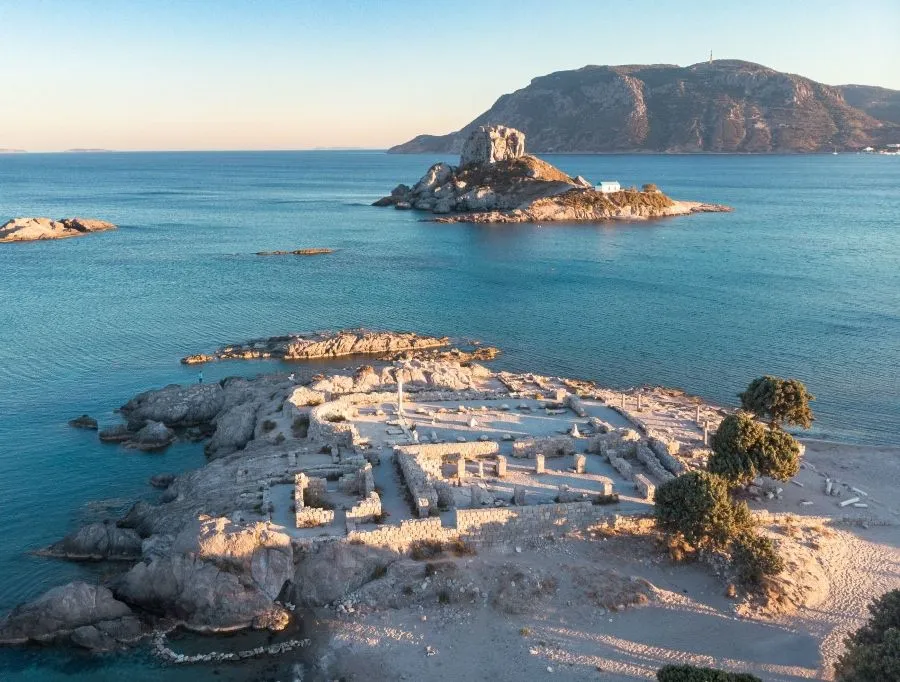 Just a stone's throw from Kefalos, Agios Stefanos Beach is where history meets sun and sand. A partly organised beach, it offers a more relaxed vibe while still having those much-needed facilities. It's sandy and quite family-friendly, and the wind here often plays peek-a-boo, appearing mostly in the afternoons.
The nearby ruins not only add a dash of Dodecanese history but also promise good snorkelling experiences. Watersports are on the limited side, so save the jet-ski enthusiasm for another day. It's more serene than celebratory, so there are no wild beach parties here. Parking's handy, especially if you're exploring Kos one beach at a time.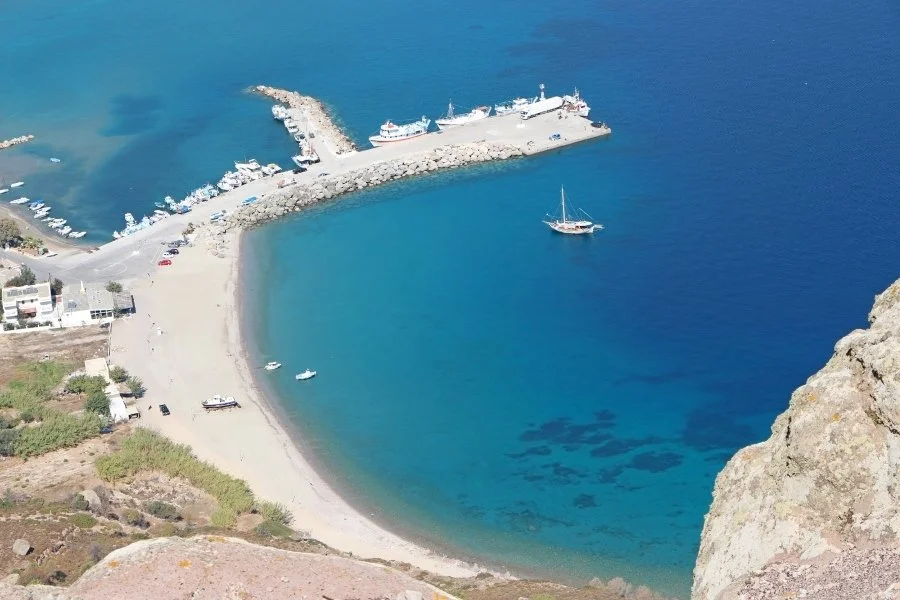 Nestled in the southern embrace of Kos, Kamari Beach is where sand meets soul. With a backdrop worthy of a postcard, this beach offers the kind of serenity that's often only found in dreams. You won't find pebbles pricking at your toes here. Instead, a generous spread of golden sand awaits eager beachcombers. Though it's partly organised, Kamari ensures a blend of comfort without compromising its natural allure.
Families will find it a haven, with gentle waves creating the perfect playground for kids and kids at heart. And while it might not rival Ibiza in terms of parties, the relaxed ambience ensures a different kind of joy. Forget battling for a parking spot; here, there's space aplenty. Lifeguards might not be omnipresent, but the warmth of the local community ensures that everyone's safety is a collective endeavour.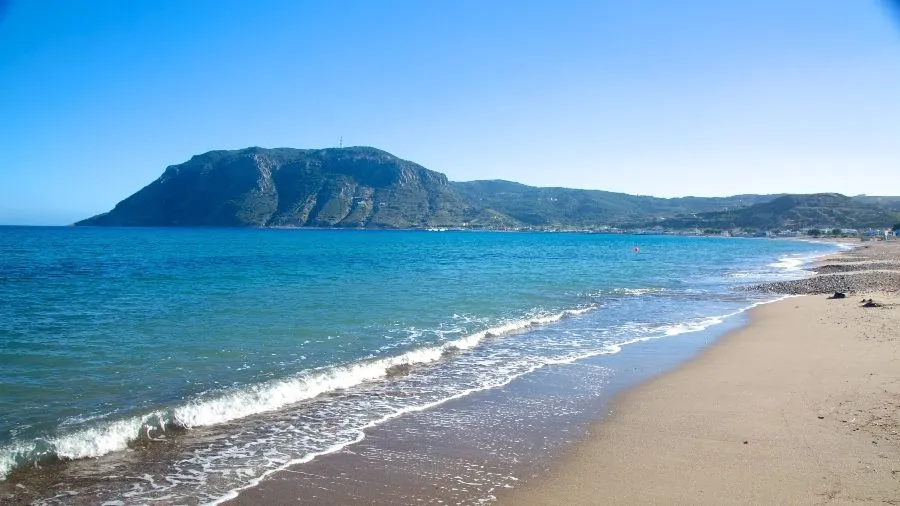 Nestled in the southwestern part of the lovely island of Kos, Kefalos Beach is a postcard-perfect sandy treasure. With a view of the nearby island of Kastri, it's no wonder this spot is often labelled as one of the best beaches in Kos.
Now, let's talk practicalities. Well-organised with all the beachy amenities you'd expect in Greece, it's fabulous for families and couples alike. You'll find a bit of wind here, especially as the afternoon rolls in, making it an ideal spot for a bit of windsurfing action. And yes, the Dodecanese is known for its rich underwater life, so snorkelling here is quite the treat.
While Kefalos beach doesn't scream party beach, it definitely hums a tune of relaxation and enjoyment. Keep an eye out for the lifeguards patrolling, and for those who drive, parking is just a hop, skip and a jump away.
Lambi Beach (One of the Best Beaches on Kos)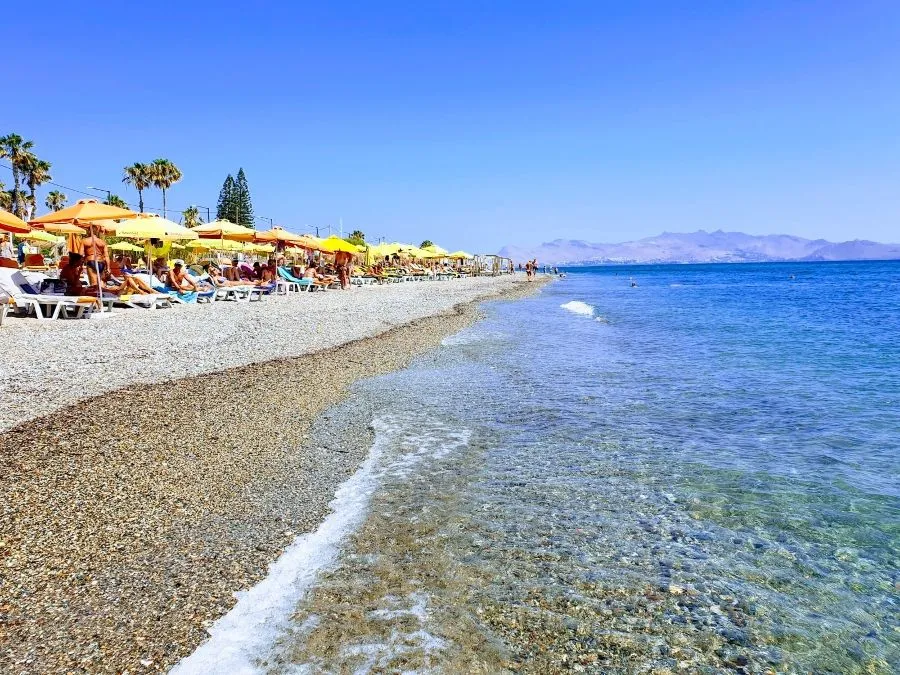 On the fringes of Kos Town lies Lambi Beach, a beautiful blend of sand and pebbles, offering the best of both worlds. Like most places in the Dodecanese, it's well organised, beckoning to families and solo travellers alike. Now, Lambi beach does have a bit of a playful streak. By day, it's all sun and relaxation; by night, some of its spots might lean towards the party side. Watersports enthusiasts won't be disappointed, and while there's no diving club here, the waters are inviting enough for a casual swim. And if you're pondering over parking, rest assured, your vehicle will find its temporary home nearby.
When you think of Greece, an image of white sands stretching under the azure skies of the Dodecanese might come to mind. That's precisely the vision Marmari Beach in Kos delivers. Located on the northern coast, a hop and a skip from the town of Marmari, this beach is pure sand – no sneaky pebbles here. It's well-organised, with sun loungers galore, catering to the solitary sunbather and bustling families.
Speaking of families, kids love it here. It's also a popular spot for windsurfing thanks to the favourable winds. As for parking, you can find a spot easily. Lifeguard on duty? Check. Party vibes? Not so much. Marmari is more about laid-back fun under the Grecian sun. So, for those making a list of the best beaches in Kos, this one definitely ticks a lot of boxes.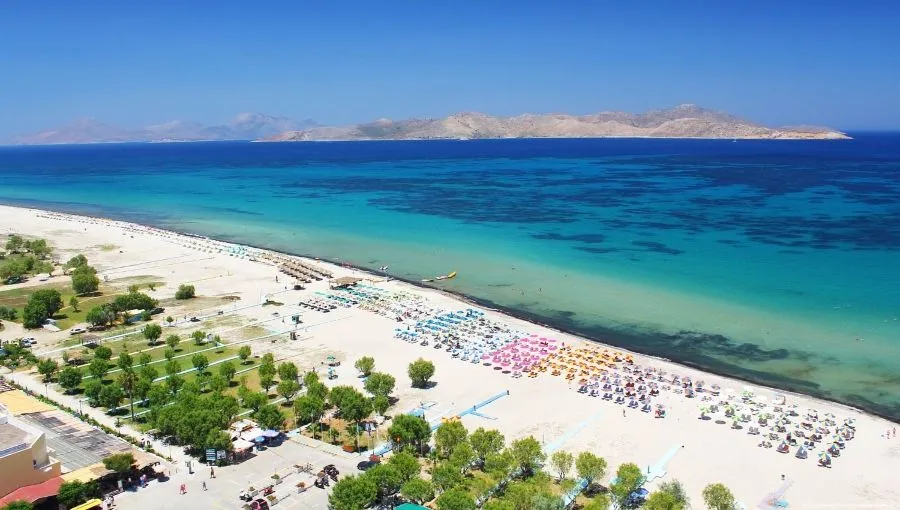 When people say they've experienced the breezy embrace of the Dodecanese, there's a good chance they've been kissed by the winds at Mastichari Beach. Situated on the northwestern side of Kos, it's a sandy stretch that's more than just a pretty face. This well-organised beach is a dream come true for families. And if the wind ruffling your hair wasn't a big hint, this is a favourite spot for windsurfing enthusiasts.
If diving deep is your thing, you're in luck because there's a diving club nearby, promising adventures beneath the waves. Snorkelers can also rejoice, as the waters here are clear enough to make friends with the local fish. Nudism isn't the norm, so best to keep the swimwear on. And for those who fancy a road trip around Kos, parking is conveniently located nearby.
Paradise Beach (Bubble Beach)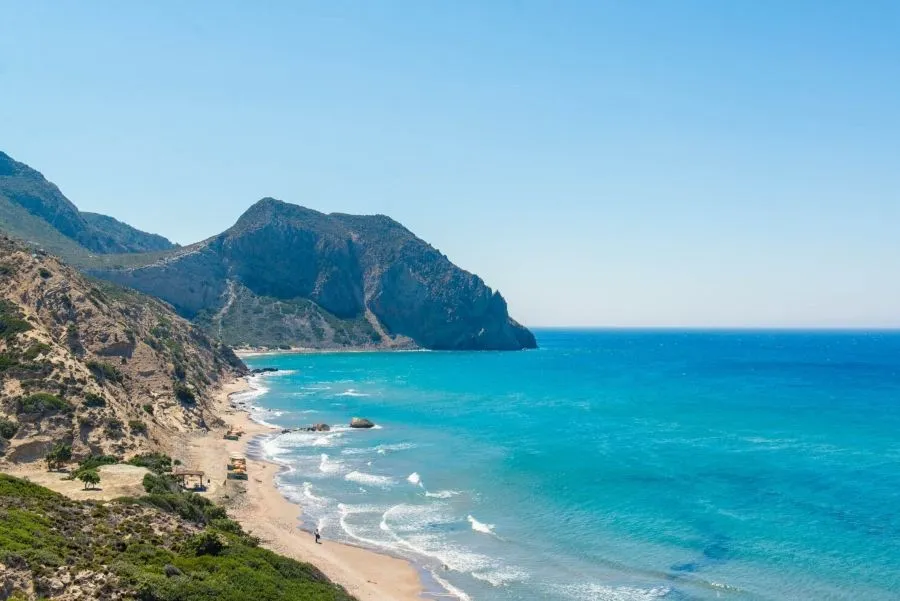 Ah, Paradise Beach, or as the locals sometimes call it, Bubble Beach, is positioned gracefully on the south of Kos. Why Bubble Beach, you ask? Well, this sandy stretch gets its playful nickname due to the charming bubbles that froth up from the seabed, thanks to some cheeky volcanic activity. Being well-organised, it's ideal for families wanting to get the most out of their time on the island.
The sun loungers welcome your backside while the nearby watersports facilities beckon to the adventurous among you. Windsurfers, in particular, might catch a gentle gust on a good day. And if you're feeling rather brave or just wanting to embrace the full experience, certain spots on this beach might be friendly to those favouring a no-tan-line sunbathing…if you get my meaning.
It's got a bit of a party vibe, so you might want to let your hair down (and please, keep everything else wrapped up). Lifeguards are often about ensuring you enjoy one of the best beaches on Kos safely. Parking? Don't fret; there's a spot for your trusty rented scooter or car right nearby.
Ah, Psalidi Beach! Just a few kilometres from the buzz of Kos Town, this eastern gem offers a delightful cocktail of sand with a sprinkle of pebbles. Mainly organised, it's an ideal spot to set up base with a good book. Families frequent the beach for its clear, shallow waters, making it a splashy paradise for the little ones. Windsurfers, this is your playground.
And for those keen on exploring the underwater beauty, there are diving clubs nearby. While it's not the party capital of Kos, it has a lively ambience. Lifeguards and parking? Both present. Remember to pack your snorkelling gear because the sea life here loves to put on a show.
Tucked away in the southeast of Kos, Therma Beach is where nature shows off its spa credentials. It's named for the warm, therapeutic springs that mix with the sea, and while it might not be the sandy haven you'd expect, its blend of sand and pebbles gives it a unique charm. Partly organised, it's an inviting spot without the overwhelming buzz of busier beaches. The encompassing cliffs offer a sense of seclusion, making it a tranquil escape.
While the warm waters are its main draw, snorkelling is a decent pastime here. Watersports aren't the main event, and it leans more towards the quiet side than party central. For the free spirits among us, its hidden nooks can sometimes be nudism-friendly. Although parking is a bit limited, there's a small space to accommodate beachgoers who drive.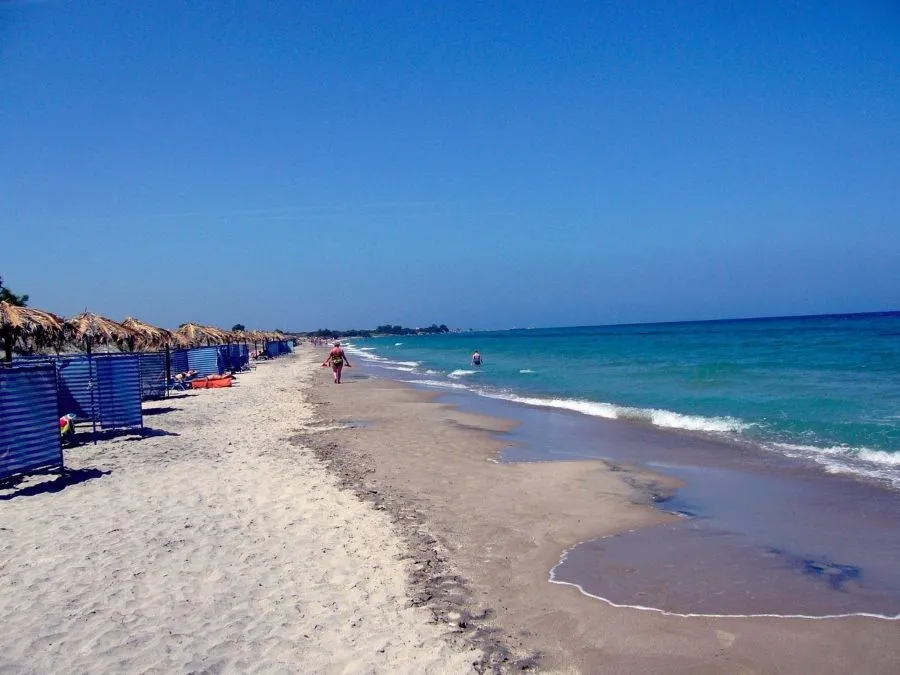 Tigaki Beach, sitting pretty to the north of Kos Town, is another sandy spectacle in the Dodecanese collection. This well-organised beach has a reputation for being superbly family-friendly. So, if you've got the little ones in tow, or even if you're just a big kid at heart, it's the spot to be.
While not the windiest beach on the island, every so often, the breeze might invite you for a bit of windsurfing. No diving clubs here, so if Jacques Cousteau is your hero, you should venture elsewhere on Kos. Though, if you're someone who likes their beaches without the soundtrack of blaring club tunes, Tigaki is your haven. Lifeguards are usually present, ensuring safe splashes and parking spaces are dotted around for those navigating the island on four wheels.
Sandy Send-Off: Until We Beach Again
Well, sun-worshippers, we've ridden the waves, made some sandy friends (literally), and hopefully, I've helped you decide where to plonk that sun lounger on your next trip to Kos. From the secluded nooks perfect for some 'me time' to the bustling shores where every hour feels like happy hour, the best beaches on Kos have a bit of everything for everyone. And if you ever find yourself overwhelmed with choices, just remember the age-old adage: 'Life's a beach, and then you… visit another one."
A heartfelt thank you for journeying with me through the sands and stories of the Dodecanese jewel that is Kos. May your sunscreen always be at hand, your tan even, and your memories as sparkling as the crystal-clear waters of Greece. And if you happen to drop a flip-flop along these Kos-tly shores, don't worry – it's just an excuse to come back.
Until our next beachy adventure, keep making waves and, most importantly, keep those toes sandy.