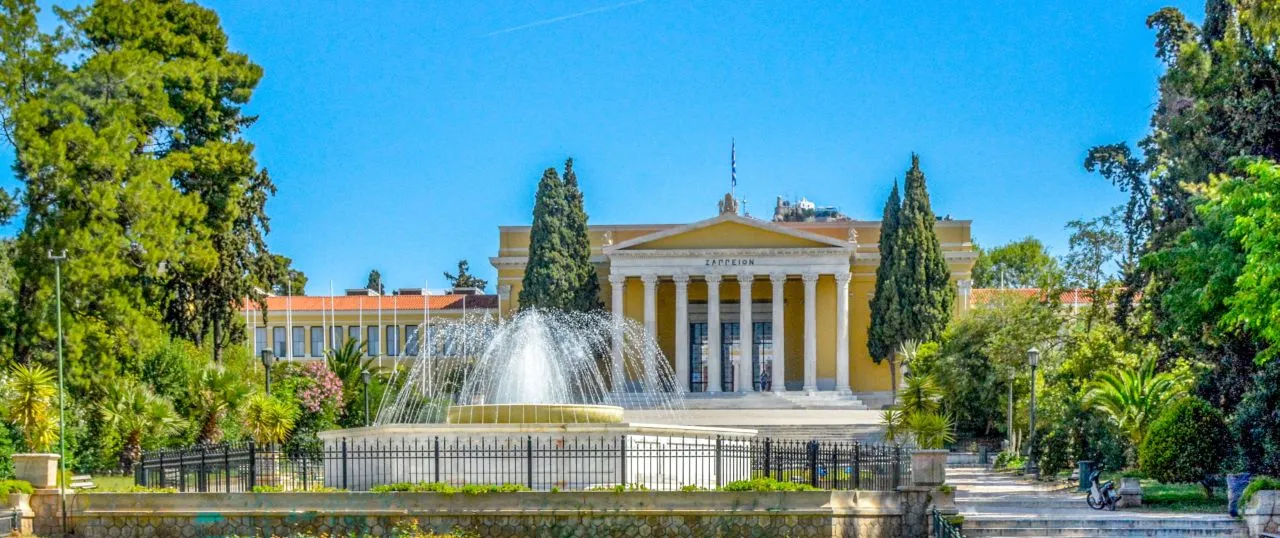 Stroll through Zappeion Garden, Athens' serene oasis amid city bustle.
All About
What to See
What to Photo
My Tips
Disability Ok?
All About
When it comes to gardens and parks, the beautiful city of Athens has many stunning options, and one of the most iconic among them is the Zappeion Garden. This lush, green oasis in the heart of the city offers the perfect place for tourists and locals alike to unwind, recharge, and soak up the rich history and culture of the ancient Greek capital.
Nestled between the Temple of Olympian Zeus and the Panathenaic Stadium and the Athens National Garden, the Zappeion Garden is easily accessible from various parts of the city. Officially known as the National Garden, it is an essential stop for any gardens in Athens tour and one of the most popular parks in Athens. The garden boasts a vast array of flora, winding pathways, and picturesque fountains, making it an idyllic spot to escape the hustle and bustle of city life.
The history of Zappeion Garden dates back to the 19th century when it was commissioned by Evangelos Zappas, a Greek philanthropist and businessman, who played a pivotal role in reviving the Olympic Games in modern times. The garden was designed by the German architect Friedrich von Gärtner and completed in 1869, with the purpose of creating a tranquil and beautiful public space for the residents of Athens.
Its rich historical and cultural significance sets Zappeion Garden apart from other gardens and parks in Athens. As you stroll through the verdant pathways, you can't help but feel the weight of the centuries-old history that permeates every corner of this enchanting garden. The Zappeion Mansion, which lends its name to the garden, is a neoclassical building designed by Danish architect Theophil Hansen. Today, the mansion serves as a conference and exhibition centre, and its grandeur adds to the charm of the surrounding landscape.
For those seeking places to relax in Athens, look no further than the Zappeion Garden. The lush, green setting is perfect for leisurely strolls, picnics, or simply sitting on a bench and watching the world go by. The garden's pathways are lined with an impressive variety of trees, shrubs, and flowers, many of which are native to Greece. As you wander through this verdant wonderland, you'll be enchanted by the sweet fragrance of blossoming flowers and the soothing sounds of birdsong.
As a public garden, Zappeion Garden is open to visitors throughout the year, offering a serene escape from the busy streets of Athens. The garden's well-maintained paths and lawns make it a popular spot for joggers, dog walkers, and families enjoying a day out in the sun. If you're lucky, you might even spot a colourful peacock or two wandering the grounds. This delightful sight adds a touch of whimsy to this already beautiful space.
Moreover, Zappeion Garden is an excellent spot for photography enthusiasts. With its picturesque fountains, charming footbridges, and elegant statues, there are countless opportunities to capture the perfect shot. Whether you're a professional photographer or simply looking to snap a few memorable photos to share with friends and family, you'll be spoiled for choice in this stunning setting.
The garden is also a fantastic place to observe the changing seasons in Athens. From the vibrant blooms of spring to the golden hues of autumn, each season brings its own distinct beauty to the landscape. During the warmer months, the garden's shaded areas provide a welcome respite from the Mediterranean sun, while the crisp winter air adds a magical touch to the scenery, making Zappeion Garden a year-round destination.
In addition to its natural attractions, Zappeion Garden often hosts a variety of cultural events and activities throughout the year. From open-air concerts and art exhibitions to yoga classes and community gatherings, there's always something happening in this vibrant public garden. Be sure to check local listings or inquire at your hotel's reception desk to discover what events might be taking place during your visit.
In conclusion, Zappeion Garden is a true gem among the gardens and parks in Athens. As one of Athens's most beautiful public gardens, it offers the perfect sanctuary for those seeking a peaceful haven amid the bustling cityscape. Its rich history, stunning flora, and close proximity to some of the city's most important archaeological sites make it a must-see destination for anyone visiting the Greek capital. So, next time you find yourself in Athens, be sure to carve out some time to visit this enchanting oasis of tranquillity and beauty.
I also recommend you take a look at Stavros Niarchos Park, which, although it's a little further away, does have a lot more to offer.
What to See
What to Photo
My Tips
Disability Ok?