Ancient sites, world-class museums, and amazing street food
Golden beaches, azure seas, medieval towns, dreamy sunsets.
Your Travel Guide to Athens and Rhodes
Athens: Greece's historic heart. Rhodes: Dodecanese's sun-kissed gem, blending beaches with tales of yore. Two destinations, timeless allure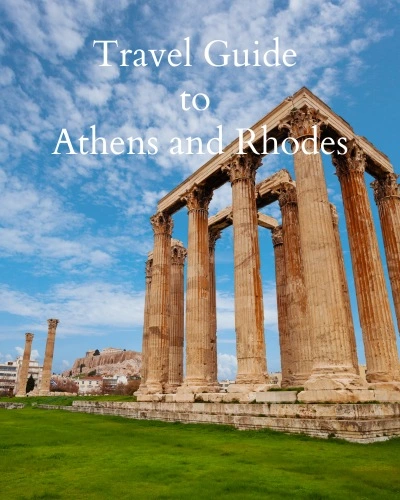 When people ask me what they should pack for Athens, I often reply, "pack your curiosity and stamina, as you'll need both for the adventure that awaits".
Athens: the capital of Greece, is the oldest city in Europe and the perfect blend of ancient Greece and modern Greece.
Unbeatable ancient sites, World Class Museums, and the oldest churches combine with award-winning bars and restaurants, fantastic street food, and unbeatable shopping.
Most people have the image of the Parthenon sitting on the Acropolis. But there are so many things to do in Athens that will excite you just as much.
Whether you're looking for an unforgettable weekend, extended holiday, or vacation, my travel guide to Athens is your go-to source for the best this city offers. From its ancient sites to vibrant nightlife, there's something for everyone in Athens.
If you've been searching for that next dreamy holiday destination, I've got the answer. Say hello to the Greek island of Rhodes, nestled in the picturesque Dodecanese archipelago. This island isn't just a pretty face; it's packed to the brim with history, charm, and a dash of Greek magic.
Wondering about the top things to do in Rhodes? Well, let's just say there's a bucket load, and I'll show you them all. Wander through ancient streets where knights once roamed, sip on sumptuous local wines (because, why not?), or let the sun kiss your skin on a sandy beach. Dive into crystal waters, dance the night away, or simply chill with a souvlaki in hand – there's something for every kind of traveller.
Dreaming of a comfy place to snooze after all the exploration? Rhodes delivers, from luxury beachfront suites to quaint townhouse B&Bs, and I'll point you in the right direction for the Best places and offers for accommodation on Rhodes. And for those itching to unearth even more treasures, my guide holds the keys to the island's best tours and tickets.