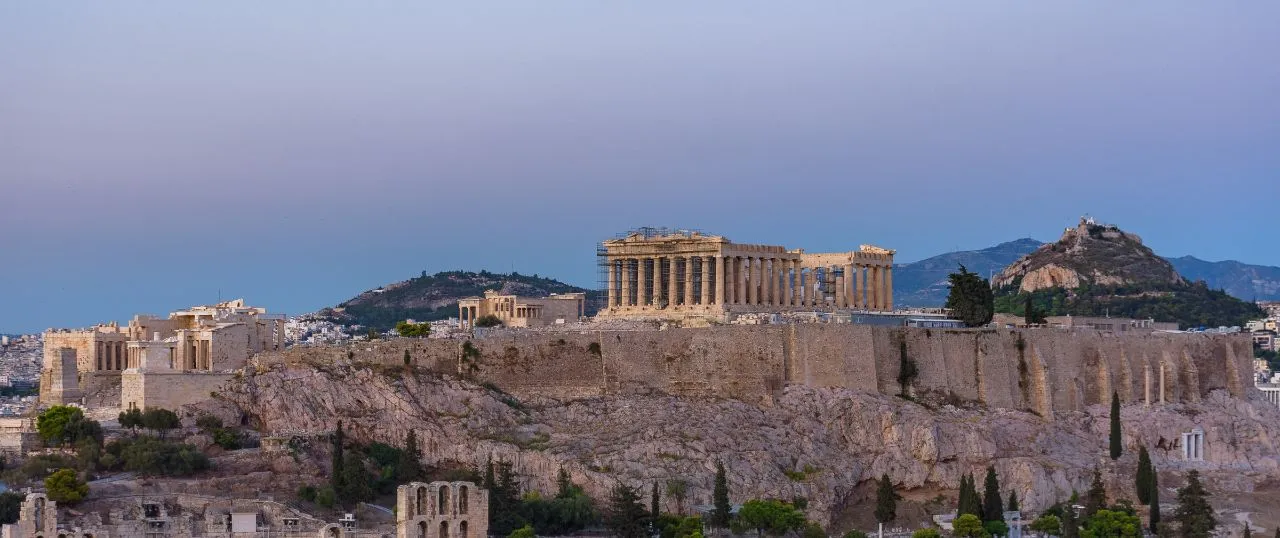 Without a doubt, the Acropolis of Athens is the most visited place in Athens
All About
What to See
What to Photo
My Tips
Disability Ok?
All About
Discover the Acropolis of Athens: The Jewel of Greece
If you're plotting your next great escape to the land of olives and myths, Greece, there's one place that demands a top spot on your bucket list: the Acropolis of Athens. Let's dive into the story of this magnificent gem that has stood as a testament to human ingenuity, art, and culture for over two millennia.
Nestled atop a rocky hill in the heart of Athens, the Acropolis isn't just any old cluster of ruins. Nope, it's a dazzling showcase of Athens attractions and arguably the most iconic silhouette in Greece's skyline. Its name, Acropolis, sort of translates to "highest point of the city", gives away its posh location. And honestly, with views like that, can you blame the ancients for choosing the penthouse suite?
Historical tidbits? Buckle up. This awe-inspiring citadel dates back to the 5th century BCE. Now, I'm no maths whizz, but that was long ago. During the golden age of the mighty city-state of Athens, under the leadership of Pericles, the Acropolis got its much-deserved makeover. 
The Athenians, ever the ambitious bunch, decided they wanted a splendid sanctuary that could do double duty – pay homage to their beloved goddess Athena and flex on other cities with their architectural genius. And boy, did they nail it.
So, what are the top things to do in Athens when you're at the Acropolis? Let's spill the beans:
The Parthenon:

 Stand in awe before the Parthenon, the showstopper of the Acropolis. It's the grand temple dedicated to Athena, the city's patron deity. And hey, did you know? The Parthenon is a bit of a celebrity; some of its sculptures, known as the Elgin Marbles, currently reside in the British Museum. But that's a story for another day.

Erechtheion:

 Swerve a little, and you'll bump into the Erechtheion, another absolute stunner. This temple, with its famous Porch of the Maidens, will leave you scratching your head wondering, "How did they build that?" It's like the architectural equivalent of people who can touch their noses with their tongues.

Odeon of Herodes Atticus:

 Fancy a bit of theatre? Then don't miss out on the Odeon of Herodes Atticus. Back in the day, it was the go-to venue for music concerts. Today, it plays host to some fabulous events and festivals. So, consider yourself very lucky if you're around during one of these.

Temple of Athena Nike:

 This might be the smallest temple on the block, but it's like the pocket rocket of Athens tourist attractions. It celebrates Athena Nike, the goddess of victory, and trust us, this architectural gem is a triumphant win.
Before you bounce over to this historic hotspot, remember the golden rule: don't forget your Acropolis tickets. You wouldn't want to climb that hill only to be turned away at the gates, right?
All in all, when you think of Greece, think of the Acropolis of Athens. As far as Athens attractions go, this one's the crème de la crème. Imagine, within a few hours, you'll be time-travelling through ancient civilisations, rubbing shoulders (well, metaphorically) with the great minds of yesteryears, and ticking off so many iconic sites that your travel journal will practically burst with excitement.
And there you have it – a wee guide to the spectacular Acropolis of Athens. Whether you're a history buff, an architecture enthusiast, or just someone who enjoys a good view, the Acropolis promises a day of wonder and memories to last a lifetime. After all, there's a reason why it's at the pinnacle of top things to do in Athens.
What to See
What to Photo
My Tips
Disability Ok?