The Parthenon on the Acropolis of Athens. It is perhaps the most famous building in the world. Many consider it to be the symbol of Greece and the most visited place in Athens, with around two million visiting every year.
Amongst those visitors are the rich and famous, the actors, actresses, politicians, presidents, dancers, performers, musicians, TV and film celebrities, and the list goes on. But just like the rest of us, they want the opportunity to see the Parthenon and have their photo taken in front of it.
So, from 1920 to the present day, let's enjoy those photographs of 22 of history's most famous having their moment in front of the camera whilst visiting the ancient site of the Parthenon on the Acropolis of Athens.
1. Elizabeth Taylor in 1958
Dame Elizabeth Taylor DBE was a British-American actress. She began her career as a child actress in the early 1940s and was one of the most popular stars of classical Hollywood cinema. She became the world's highest-paid movie star in the 1960s, remaining a well-known public figure for the rest of her life.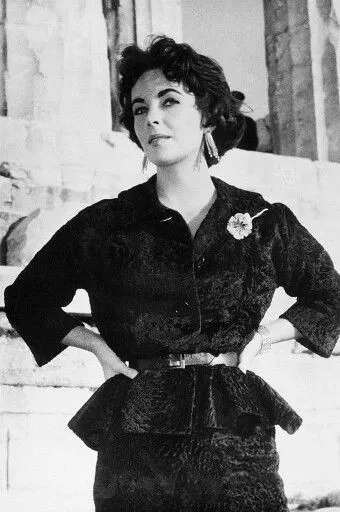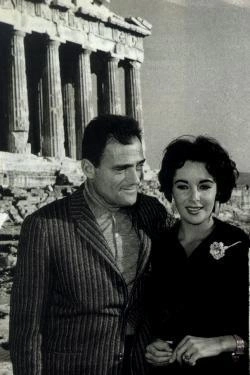 2. Barack Obama in 2016
Barack Obama II is an American politician who served as the 44th president of the United States from 2009 to 2017. He was the first African-American president of the United States. A member of the Democratic Party, he served as a U.S. senator from Illinois from 2005 to 2008 and an Illinois state senator from 1997 to 2004.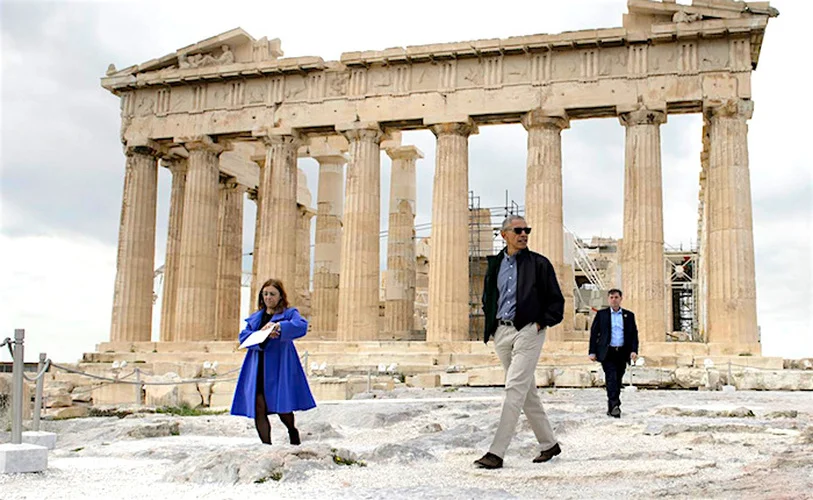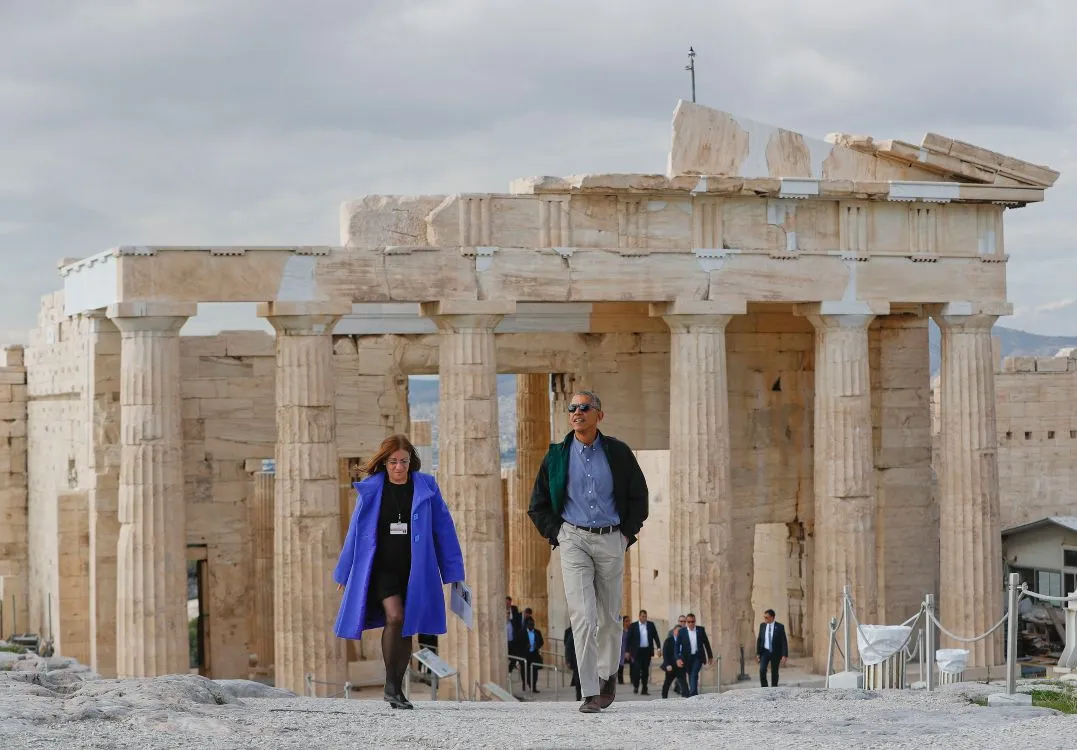 3. Jennifer Lopez in 2008
Jennifer Lopez (born July 24, 1969), also known as J.Lo, is an American singer, actress, and dancer. In 1991, she began appearing as a Fly Girl dancer on In Living Color, where she remained a regular until she decided to pursue an acting career in 1993. For her first leading role in Selena (1997), she became the first Hispanic actress to earn over US$1 million for a film. She went on to star in Anaconda (1997) and Out of Sight (1998), and established herself as the highest-paid Hispanic actress in Hollywood.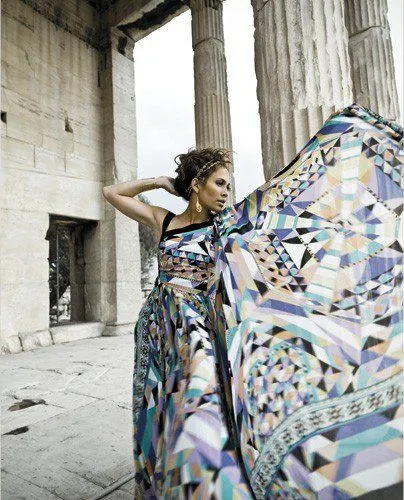 4. Paul Newman with his wife Joanne Woodward in 1962
Paul Newman (January 26, 1925 – September 26, 2008) was an American actor, film director, race car driver and entrepreneur. He was the recipient of numerous awards, including an Academy Award, a BAFTA Award, three Golden Globe Awards, a Screen Actors Guild Award, a Primetime Emmy Award, a Silver Bear, a Cannes Film Festival Award, the Cecil B. DeMille Award and the Jean Hersholt Humanitarian Award.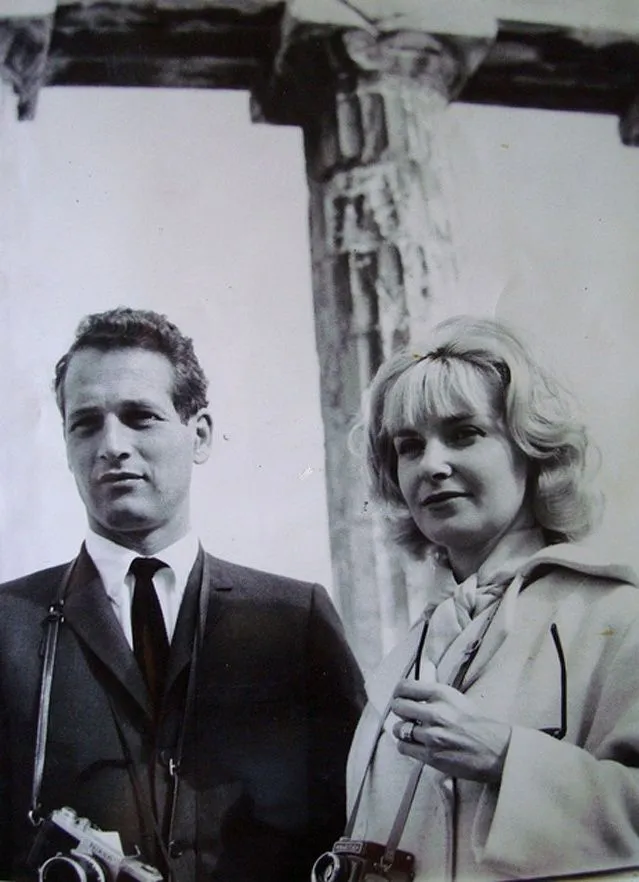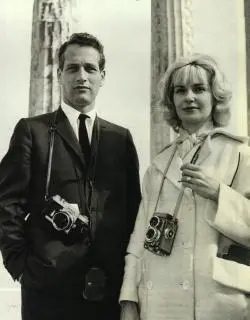 5. Margaret Thatcher with her husband Dennis in 1980
Margaret Thatcher (13 October 1925 – 8 April 2013), was Prime Minister of the United Kingdom from 1979 to 1990 and Leader of the Conservative Party from 1975 to 1990. She was the longest-serving British prime minister of the 20th century and the first woman to hold that office.
As prime minister, she implemented policies that became known as Thatcherism. A Soviet journalist dubbed her the "Iron Lady", a nickname that became associated with her uncompromising politics and leadership style.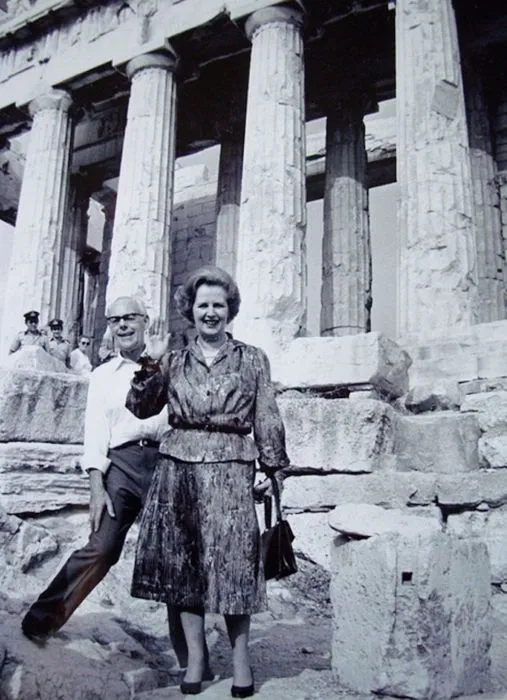 6. Agatha Christie in 1958
Dame Agatha Christie (15 September 1890 – 12 January 1976) was an English writer known for her 66 detective novels and 14 short story collections, particularly those revolving around fictional detectives Hercule Poirot and Miss Marple.
She also wrote the world's longest-running play, The Mousetrap, which has been performed in the West End since 1952, as well as six novels under the pseudonym Mary Westmacott. In 1971, she was made a Dame (DBE) for her contributions to literature. Guinness World Records lists Christie as the best-selling fiction writer of all time, her novels having sold more than two billion copies.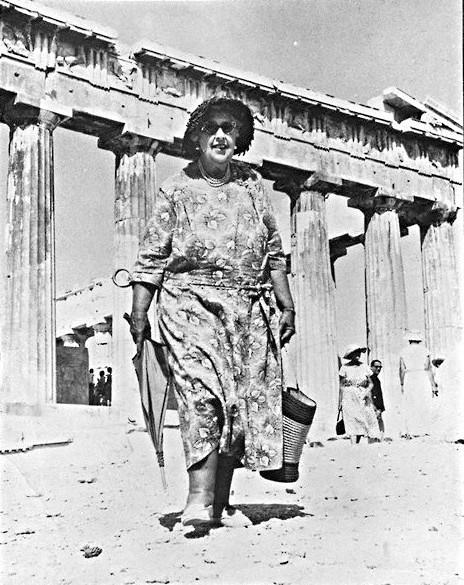 7. Danny Kaye in 1954
Danny Kaye (January 18, 1911 – March 3, 1987) was an American actor, singer, dancer, comedian, musician, philanthropist, and cook. His performances featured physical comedy, idiosyncratic pantomimes, and rapid-fire novelty songs.
Kaye starred in 17 films, notably Wonder Man (1945), The Kid from Brooklyn (1946), The Secret Life of Walter Mitty (1947), The Inspector General (1949), Hans Christian Andersen (1952), White Christmas (1954), and The Court Jester (1955). His films were popular, especially for his performances of patter songs and favourites such as "Inchworm" and "The Ugly Duckling".
He was the first ambassador-at-large of UNICEF in 1954 and received the French Legion of Honour in 1986 for his years of work with the organization.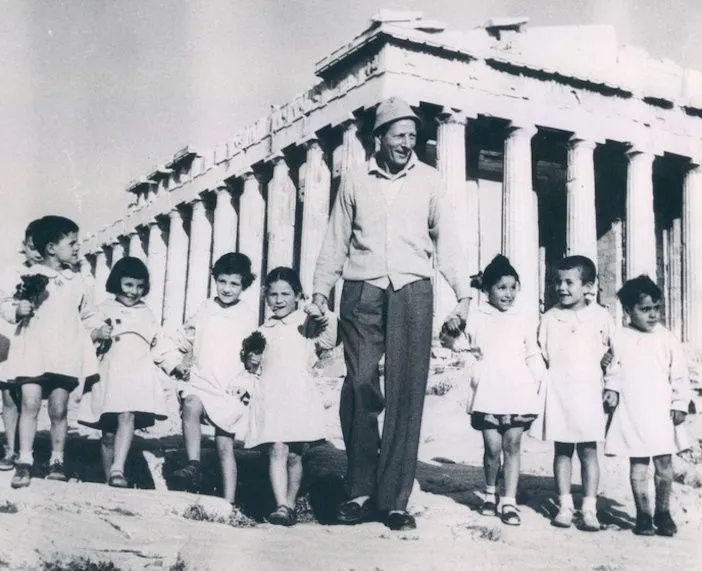 8. Kirk Douglas in 1964
Kirk Douglas (December 9, 1916 – February 5, 2020) was an American actor and filmmaker. After an impoverished childhood, he made his film debut in The Strange Love of Martha Ivers (1946) with Barbara Stanwyck. Douglas soon developed into a leading box-office star throughout the 1950s, known for serious dramas, including westerns and war films.
During his career, he appeared in more than 90 films and was known for his explosive acting style. He was named by the American Film Institute the 17th-greatest male star of Classic Hollywood cinema and was the highest-ranked living person on the list.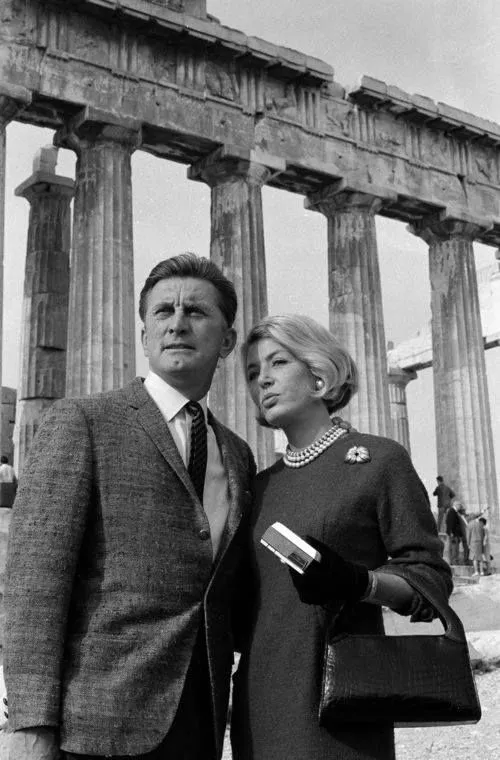 9. Gregory Peck in 1960
Eldred Peck (April 5, 1916 – June 12, 2003) was an American actor and one of the most popular film stars from the 1940s to the 1970s. In 1999, the American Film Institute named Peck the twelfth greatest male star of Classic Hollywood Cinema.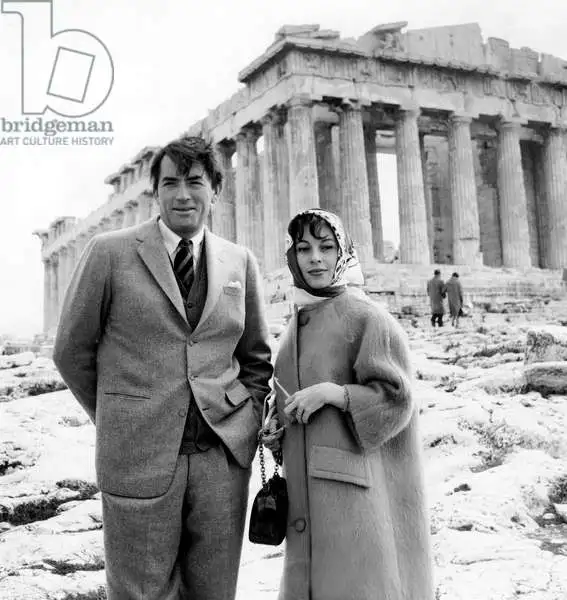 10. Gary Cooper in 1956
Gary Cooper (May 7, 1901 – May 13, 1961) was an American actor known for his strong, quiet screen persona and understated acting style. He won the Academy Award for Best Actor twice and had a further three nominations, as well as receiving an Academy Honorary Award for his career achievements in 1961. He was one of the top 10 film personalities for 23 consecutive years and one of the top money-making stars for 18 years. The American Film Institute (AFI) ranked Cooper at No. 11 on its list of the 25 greatest male stars of classic Hollywood cinema.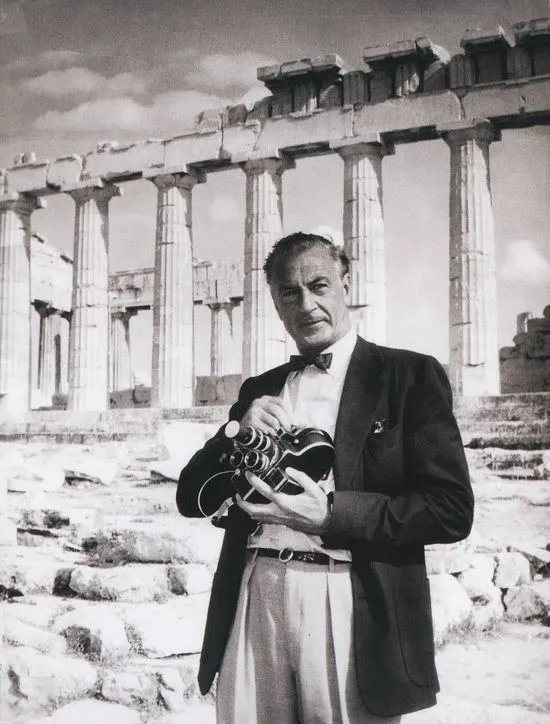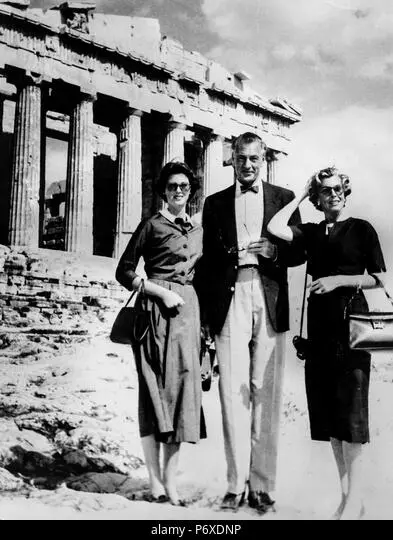 11. Boris Johnson in 2012
Boris Johnson (born 19 June 1964) is a British politician serving as prime minister of the United Kingdom and leader of the Conservative Party since 2019. He was Secretary of State for Foreign and Commonwealth Affairs from 2016 to 2018 and mayor of London from 2008 to 2016. Johnson has been a member of Parliament (MP) for Uxbridge and South Ruislip since 2015 and was previously MP for Henley from 2001 to 2008.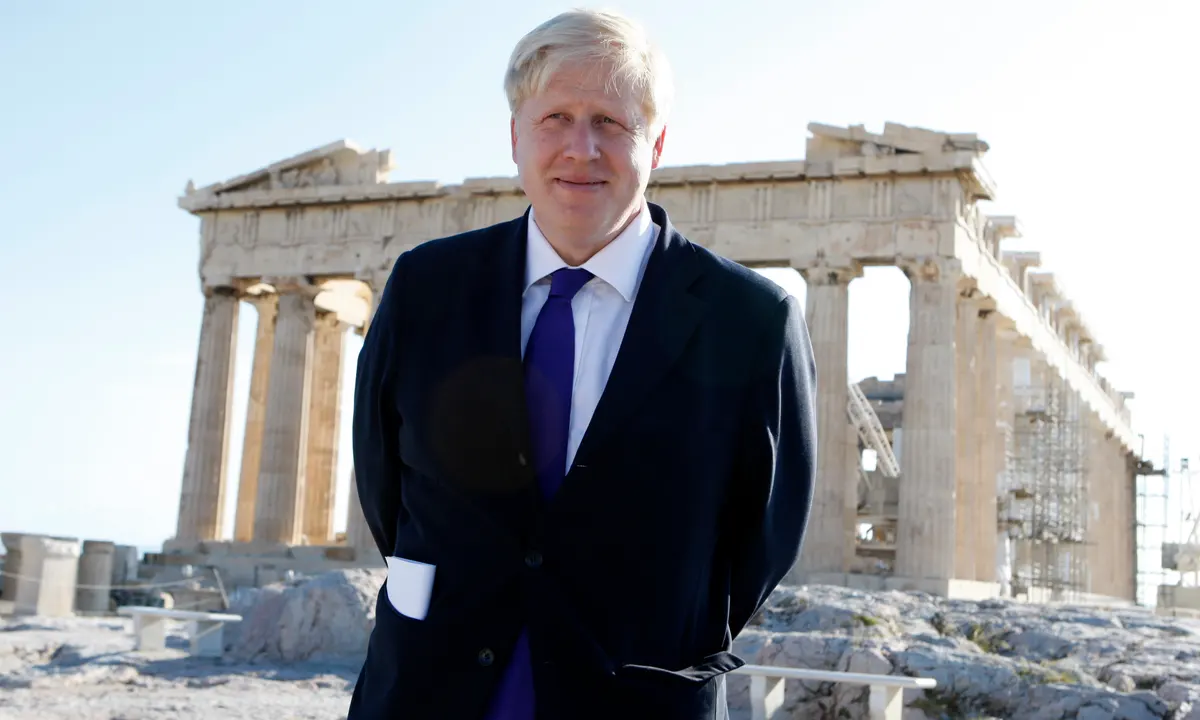 12. Jayne Mansfield in 1957
Jayne Mansfield (April 19, 1933 – June 29, 1967) was an American actress, singer, nightclub entertainer, and Playboy Playmate. A sex symbol of the 1950s and early 1960s while under contract at 20th Century Fox, Mansfield was known for her well-publicized personal life and publicity stunts. Her film career was short-lived, but she had several box-office successes and won a Theatre World Award and a Golden Globe Award.
Mansfield enjoyed success in the role of fictional actress Rita Marlowe in the Broadway play Will Success Spoil Rock Hunter? (1955–1956), which she reprised in the film adaptation of the same name (1957). Her other film roles include the musical comedy The Girl Can't Help It (1956), the drama The Wayward Bus (1957), the neo-noir Too Hot to Handle (1960), and the sex comedy Promises! Promises! (1963); the latter established Mansfield as the first major American actress to perform in a nude scene in a post-silent era film.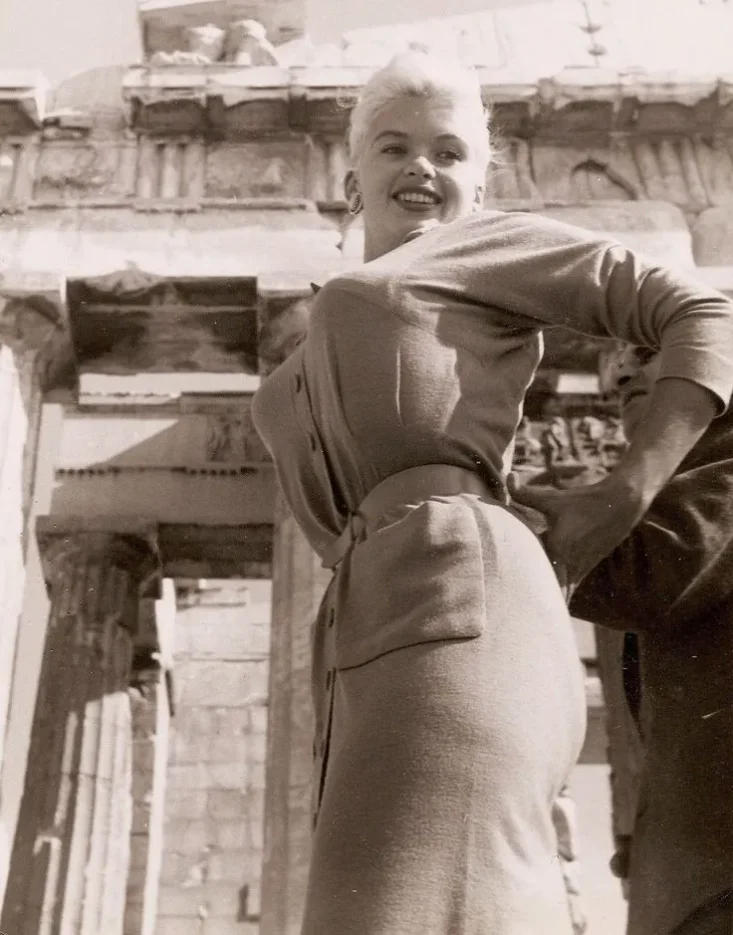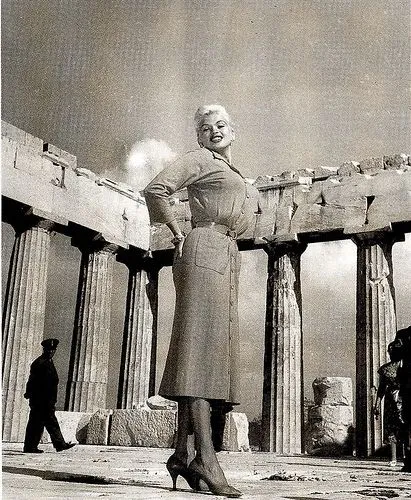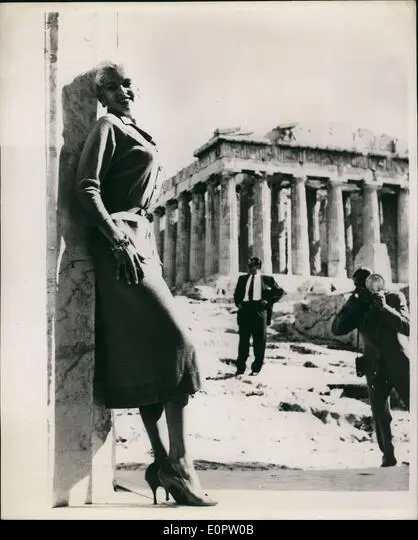 13. Bill Clinton in 1999 and 2007
Bill Clinton (born August 19, 1946) is an American politician who served as the 42nd president of the United States from 1993 to 2001. He previously served as governor of Arkansas from 1979 to 1981 and again from 1983 to 1992, and as attorney general of Arkansas from 1977 to 1979. A member of the Democratic Party, Clinton became known as a New Democrat, as many of his policies reflected a centrist "Third Way" political philosophy. He is the husband of Hillary Clinton, who was a senator from New York from 2001 to 2009, secretary of state from 2009 to 2013 and the Democratic nominee for president in the 2016 presidential election.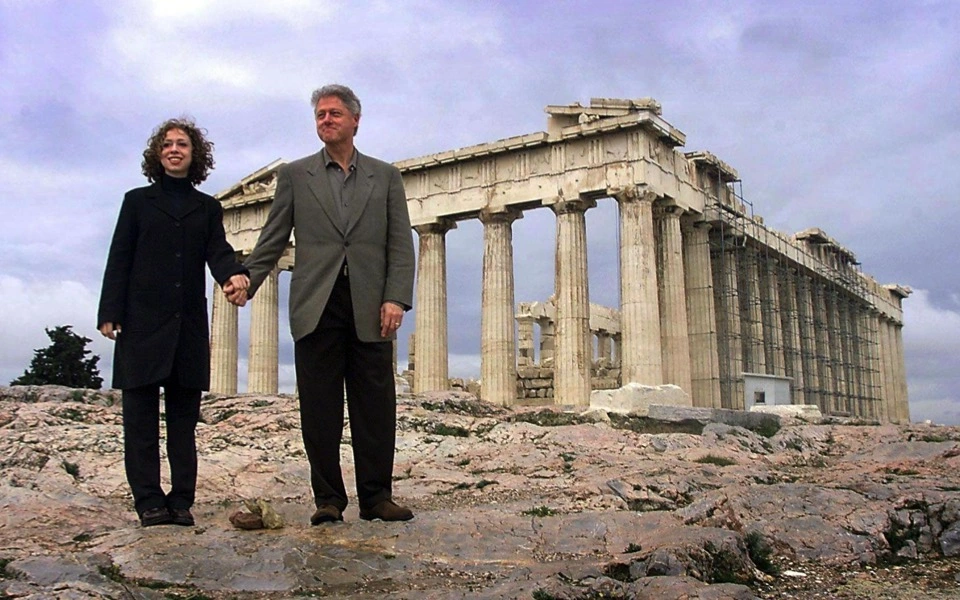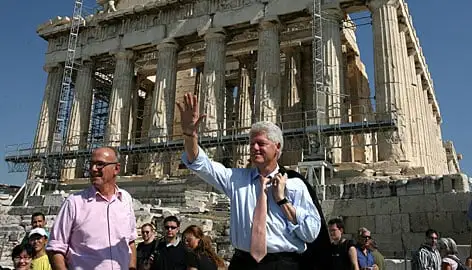 14. Marlon Brando in 1958
Marlon Brando Jr. (April 3, 1924 – July 1, 2004) was an American actor. Considered one of the most influential actors of the 20th century, he received numerous accolades throughout his career, which spanned six decades, including two Academy Awards, two Golden Globe Awards, one Cannes Film Festival Award and three British Academy Film Awards.
Brando was also an activist for many causes, notably the civil rights movement and various Native American movements. Having studied with Stella Adler in the 1940s, he is credited with being one of the first actors to bring the Stanislavski system of acting, and method acting, derived from the Stanislavski system, to mainstream audiences.
American actor Marlon Brando standing just below the Temple of Athena Nike next to the Parthenon on the Acropolis of Athens in 1958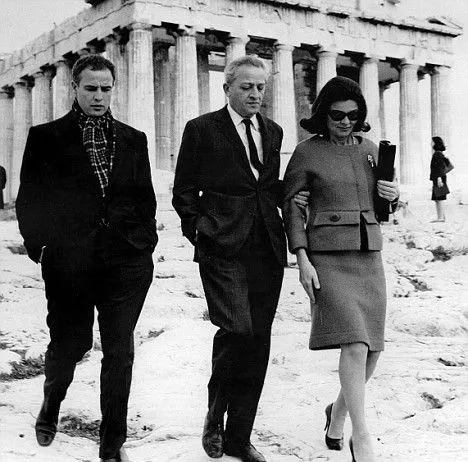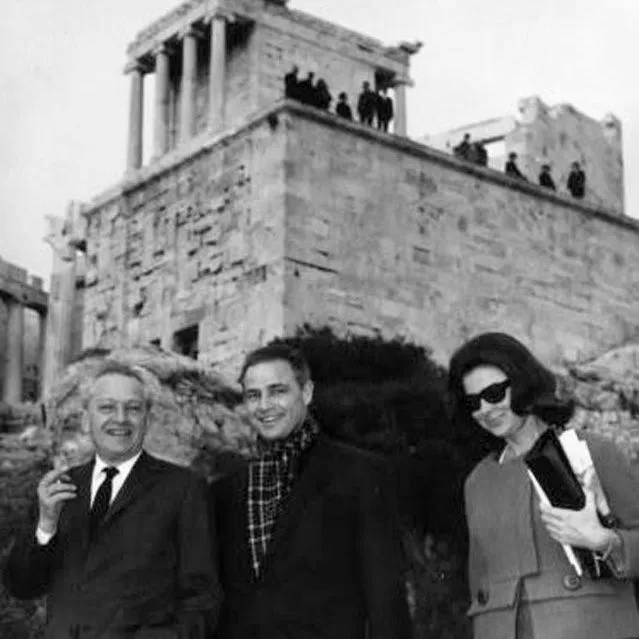 15. Melina Mercouri in 1982
Maria Amalia Melina Mercouri (18 October 1920 – 6 March 1994) was a Greek actress, singer, activist, and politician. She came from a political family that was prominent over multiple generations. She received an Academy Award nomination and won a Cannes Film Festival Best Actress Award for her performance in the film Never on Sunday (1960). Mercouri was also nominated for one Tony Award, three Golden Globes and two BAFTA Awards in her acting career.
As a politician, she was a member of the PASOK and the Hellenic Parliament. In October 1981, Mercouri became the first female Minister of Culture and Sports. She was the longest-lived Minister of Culture in Greece – serving during the years 1981-89 and 1993 till her death in 1994, in all PASOK governments.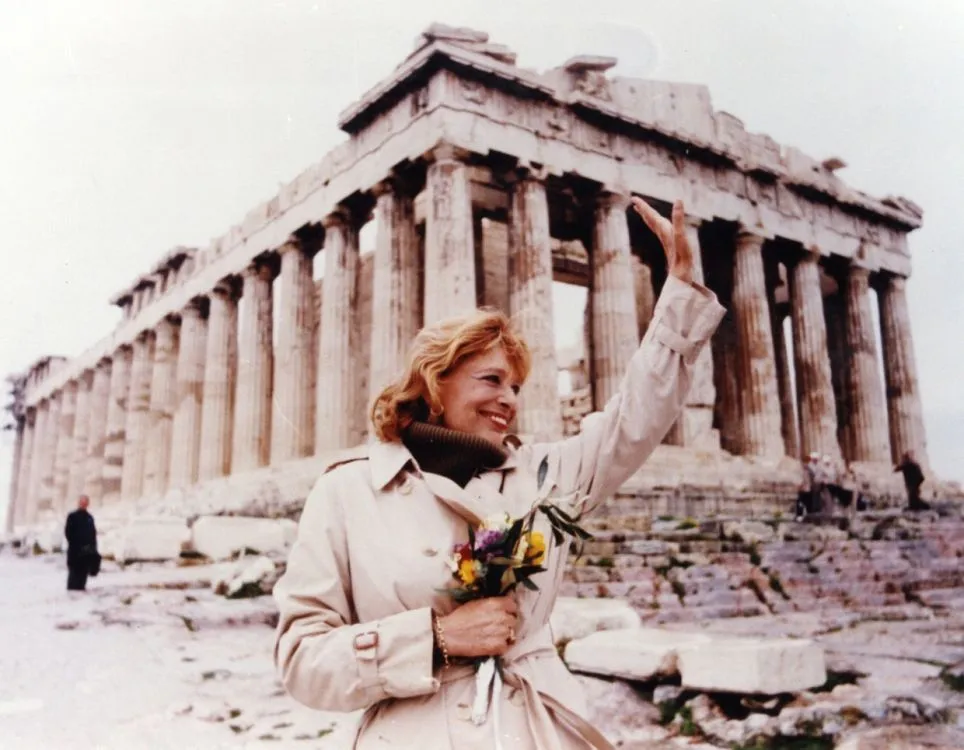 16. Jacqueline Kennedy in 1961
Jacqueline Lee Kennedy Onassis (July 28, 1929 – May 19, 1994) was an American socialite, writer, photographer, and book editor who served as the first lady of the United States from 1961 to 1963, as the wife of President John F. Kennedy. A popular first lady, she endeared to the American public with her fashion sense, devotion to her family, and dedication to the historic preservation of the White House. During her lifetime, she was regarded as an international fashion icon.
American socialite, writer, photographer, and first lady of the United States Jackie Kennedy standing in front of the Parthenon on the Acropolis of Athens in 1961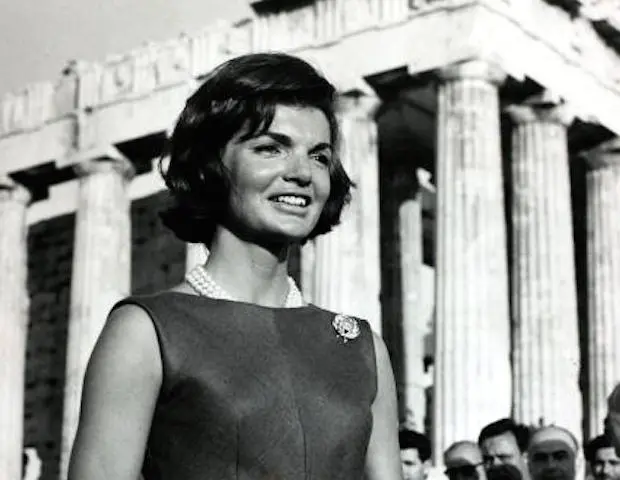 17. Sophia Loren in 1956
Sofia Costanza Brigida Villani Scicolone and more commonly known as Sophia Loren (born 20 September 1934), is an Italian actress. She was named by the American Film Institute as one of the greatest female stars of Classical Hollywood cinema. As of 2022, Loren is one of the last surviving major stars from the Golden Age of Hollywood cinema and is the only remaining living person on AFI's list.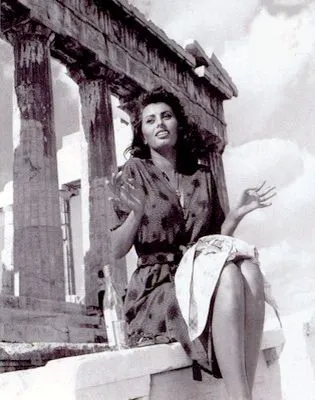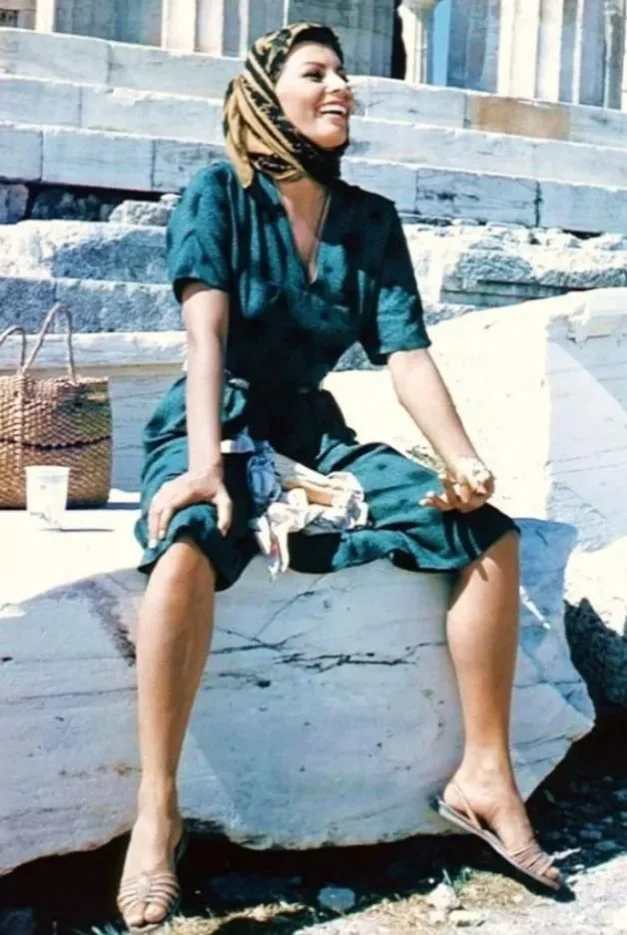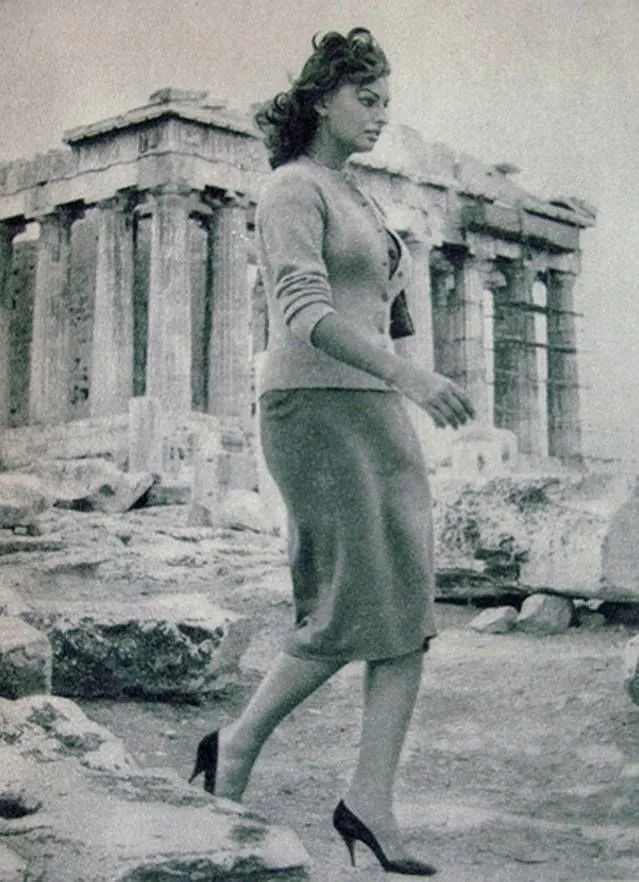 18. John Wayne in 1966
Marion Robert Morrison (May 26, 1907 – June 11, 1979), known professionally as John Wayne and nicknamed Duke, was an American actor who became a popular icon through his starring roles in films made during Hollywood's Golden Age, especially in Western and war movies. His career flourished from the silent era of the 1920s through the American New Wave, as he appeared in a total of 179 film and television productions.
He was among the top box-office draws for three decades, and he appeared with many other important Hollywood stars of his era. In 1999, the American Film Institute selected Wayne as one of the greatest male stars of classic American cinema.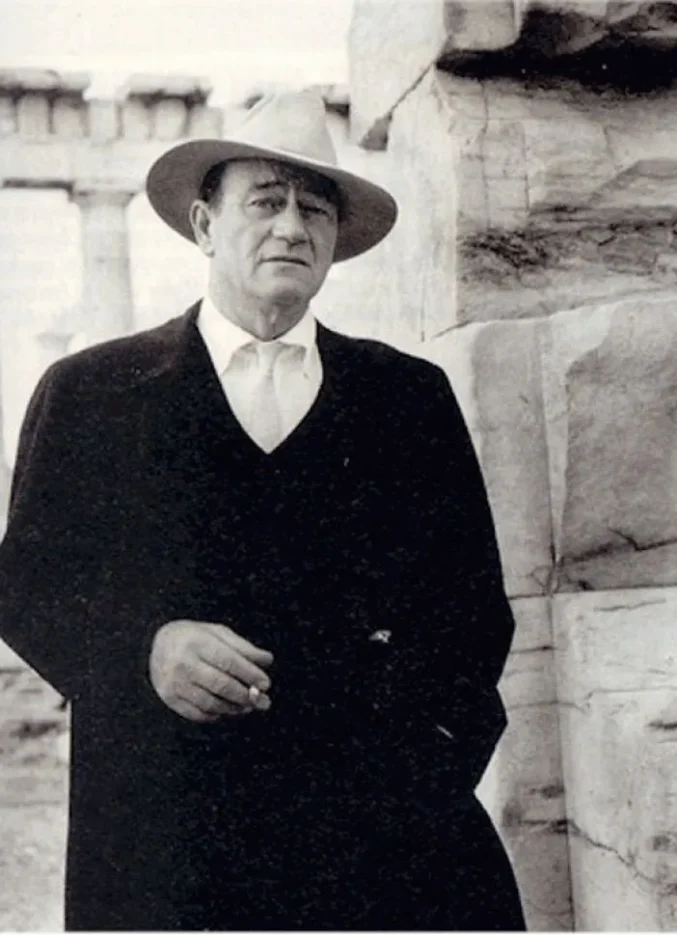 19. Isadora Duncan in 1920
Angela Isadora Duncan (May 26, 1877, or May 27, 1878 – September 14, 1927) was an American dancer who performed to great acclaim throughout Europe and the US. Born and raised in California, she lived and danced in Western Europe, the US and the Soviet Union from the age of 22 until her death at age 50 when her scarf became entangled in the wheel and axle of the car in which she was travelling in Nice, France.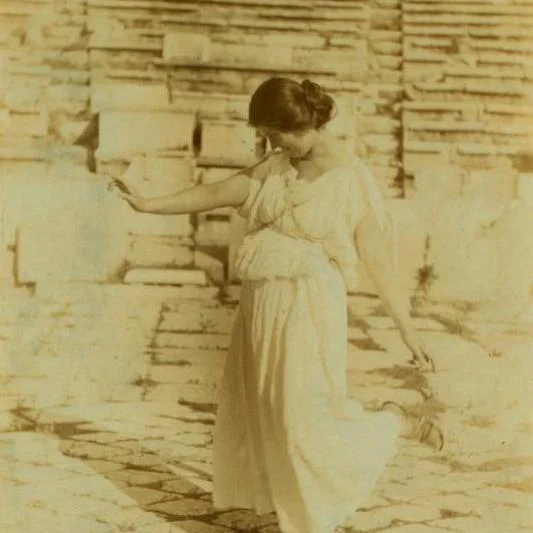 20. Nana Mouskouri in 1980
Ioanna "Nana" Mouskouri (born 13 October 1934) is a Greek singer. Over the span of her career, she has released over 200 albums in at least twelve languages, including Greek, French, English, German, Dutch, Italian, Portuguese, Spanish, Hebrew, Welsh, Mandarin Chinese and Corsican.
Mouskouri became well known throughout Europe for the song "The White Rose of Athens", recorded first in German as "Weiße Rosen aus Athen" as an adaptation of her Greek song "Σαν σφυρίξεις τρείς φορές" (San sfyríxeis tris forés, "When you whistle three times"). It became her first record to sell over one million copies.
21. Joanna Lumley in 2011
Dame Joanna Lamond Lumley DBE FRGS (born 1 May 1946) is an English actress, presenter, former model, author, television producer, and activist. She won two BAFTA TV Awards for her role as Patsy Stone in the BBC sitcom Absolutely Fabulous (1992–2012) and was nominated for the 2011 Tony Award for Best Featured Actress in a Play for the Broadway revival of La Bête. In 2013, she received the Special Recognition Award at the National Television Awards, and in 2017 she was honoured with the BAFTA Fellowship award.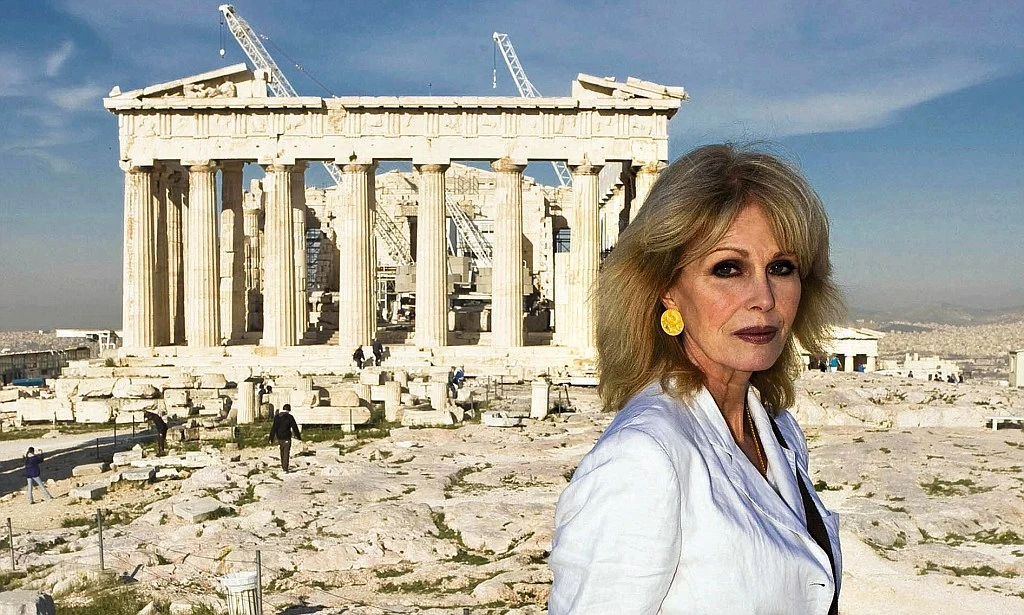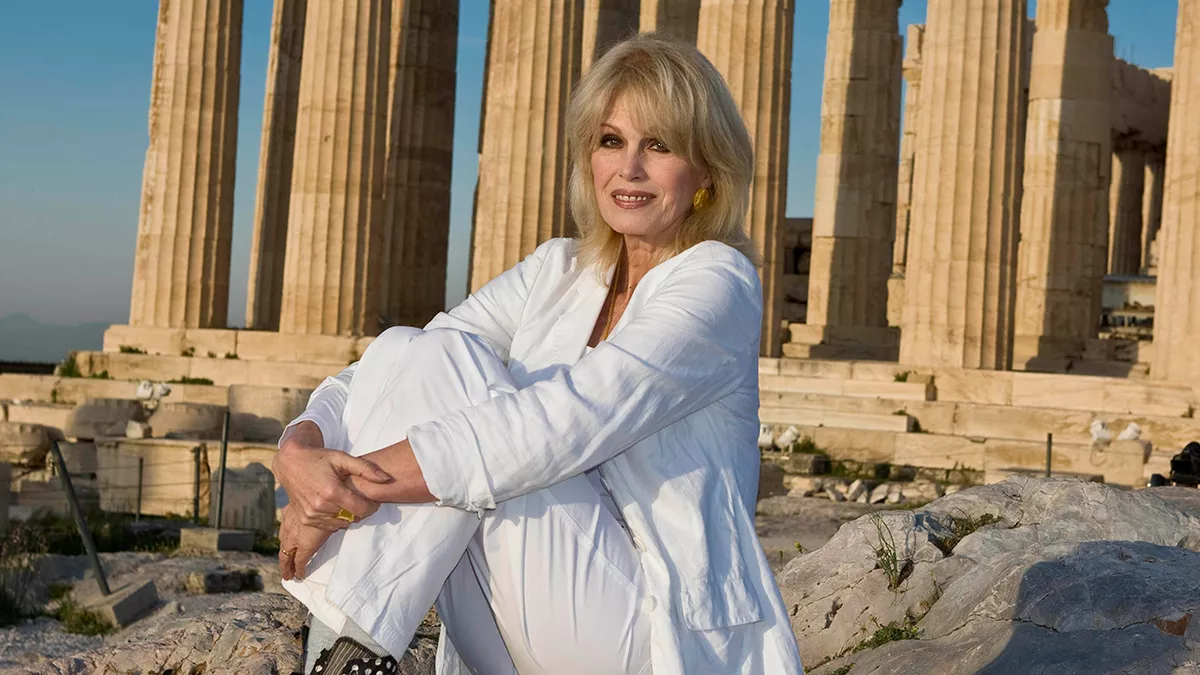 22. Giannis and Thanasis Antetokounmpo in 2021
Giannis and Thanasis Antetokounmpo are Greek-Nigerian NBA basketball players, who both play for the Milwaukee Bucks. Giannis's skills on the court, in addition to his size, speed, strength, and ball-handling skills have earned him the nickname "Greek Freak". Thanasis, listed at an amazing 6 feet 6 inches (1.98 m) and 219 pounds (99 kg), plays the small forward and power forward positions.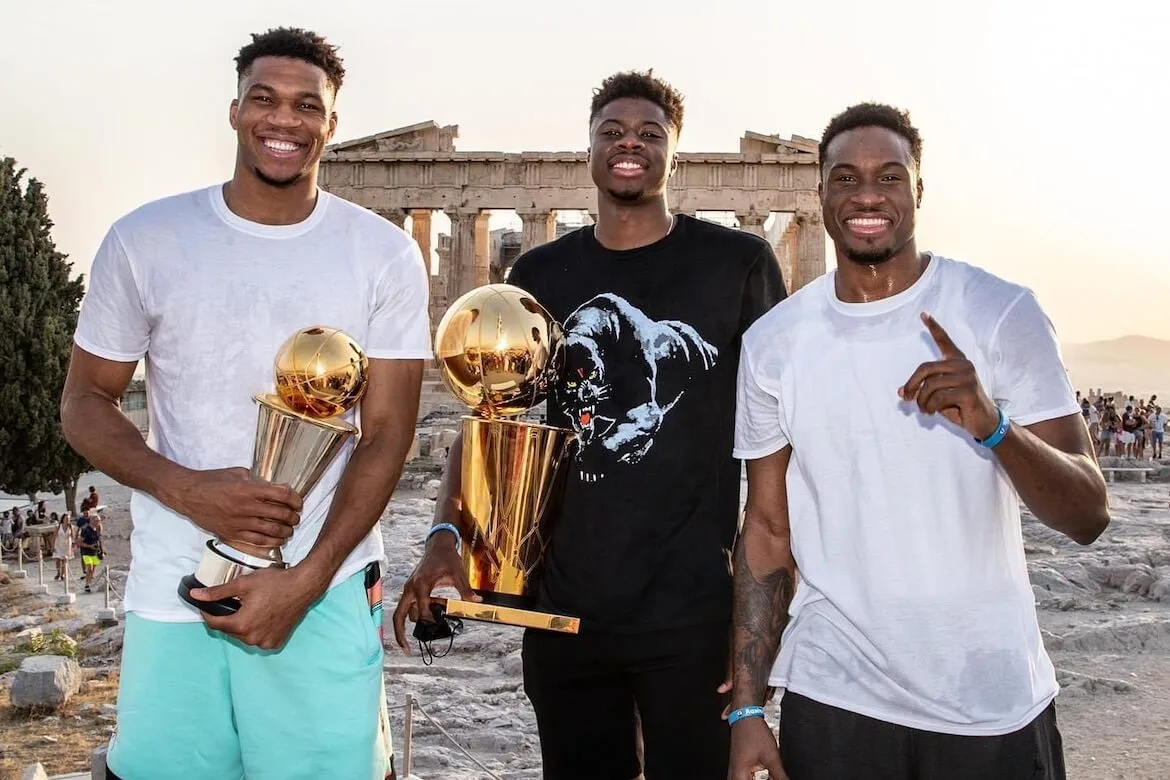 Summary – 22 Famous People Photographed at the Parthenon
I hope you enjoyed looking at these photos as much as I did, and I'm absolutely certain there are many other photos out there of the rich and famous, the actors, actresses, politicians, presidents, dancers, performers, musicians, TV and film celebrities.
So, if you have any that you would like included, then just let me know in the comments below.
Thanks
Ian