Now, when most folks think of Athens, they tend to picture the Parthenon on the Acropolis, museums, and perhaps local tavernas. But did you know there are at least 30 beaches around the city? Perhaps not, so let me take you through my choice of the top beaches in Athens.
Venture a stone's throw away from the hustle and bustle, and you'll stumble upon a shoreline that would make Poseidon himself blush. Trust me, with these beaches in Athens, you'll be saying 'Parthen-oh-wow' in no time.
As a seasoned sand-between-my-toes enthusiast and Athens aficionado, I've spent years frolicking around Greece, gathering freckles, and chasing the best beaches in Athens like a dog after a Frisbee. I've dived into the deep end to find the cream of the crop, the cherry on top, the dreamiest of dreamy beach spots. And, because sharing is caring, I will spill the beans about my top 5 picks in this blog post.
Are you ready to swap the humdrum for the hum of waves, and trade city streets for sun-dappled retreats? Ready to discover the best beaches near Athens? Excellent. So, pack your sunscreen, your sense of adventure, and perhaps an extra towel or two (these beaches are too tempting to resist a dip). With my blog post as your beachy bible, you'll soon be leaving footprints on the best beaches Athens offers. Here's to uncharted sunsets and seaside bliss in sunny Athens.
Astir Beach Vouliagmeni (Vouliagmeni Beach)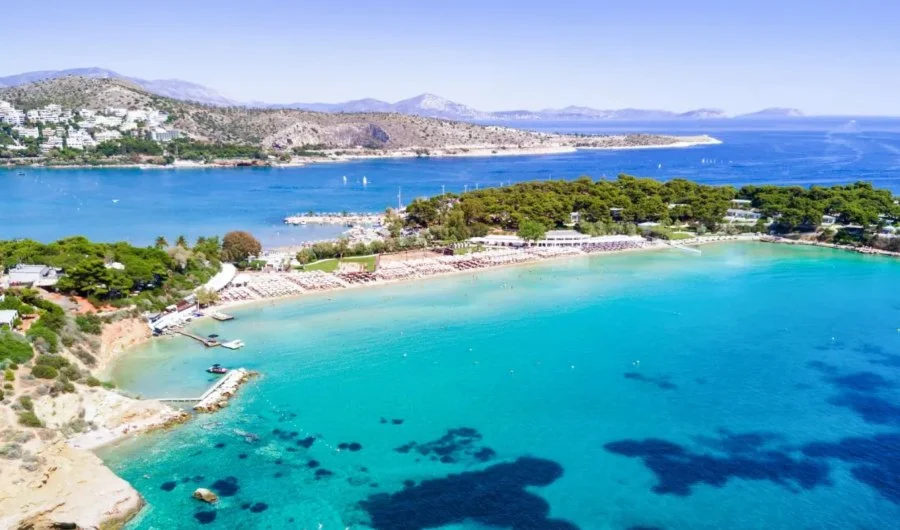 Let's kick off our beach bucket list with a place that has mastered the art of seaside sophistication. Nestled in the sun-soaked lap of Greece, it's Astir Beach, or as it's fondly known by the locals, "Astir Beach Vouliagmeni".
A part of the luxurious Astir Palace complex, this beach is Athens' own little slice of coastal paradise, sitting pretty in the posh suburb of Vouliagmeni. When you're on the hunt for the best beaches in Athens, this one's got all the sandcastle building space and seafront relaxation you could wish for.
So, how do you get to this Greek beach nirvana? Simple. You can catch a bus from Athens city centre, or if you're more of a "wheels of my own" adventurer, ample parking is nearby. But remember, don't leave your toga behind – Vouliagmeni Beach is all about the glam.
As you step onto the beach, it's immediately clear why it has top-dog status among Athens' beaches. For starters, it's well-organised, boasting pristine white sands (not a pebble in sight!) that seem to glow under the Grecian sun. It's got all the beachfront essentials too, with sunbeds, umbrellas, and even a lifeguard on duty (just in case you decide to channel your inner Poseidon).
Worried about keeping the kids entertained? Vouliagmeni Beach has got your back. It's incredibly family-friendly – think squeals of delight from sandcastle architects and ice cream enthusiasts. However, if you're looking for a spot to bare it all in the name of nudism, you should explore a bit further – Astir Beach keeps things pretty PG.
For the adrenaline junkies among us, Vouliagmeni Beach is a dream come true. Fancy a go at windsurfing or joining a diving club? They've got you covered. It's not so much a party beach as a haven for water sports and soaking up that luxurious atmosphere.
In the neighbourhood, take advantage of a visit to Lake Vouliagmeni, a stunning natural lake known for its healing mineral waters. You'll return feeling rejuvenated and with stories about the legendary Aphrodite's beauty rituals at the lake.
To sum up, Astir Beach Vouliagmeni in Athens is like that perfect beach scene from a postcard, only better because you're actually there, basking in the balmy Greek sun. From its well-organised setup to its array of water activities, it easily scores a top spot among the best beaches near Athens. Now, grab your towel, as we've got four more sandy destinations to explore.
Voula Beach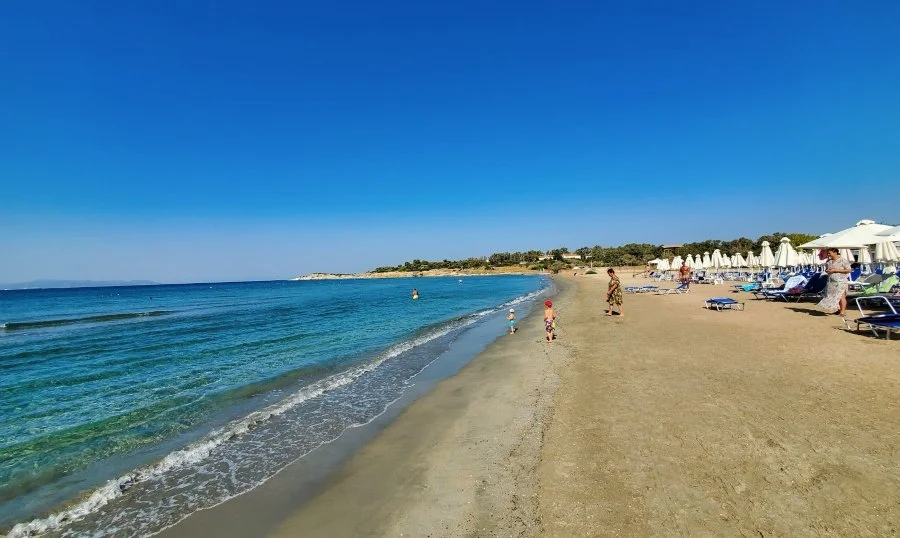 Alright, beach connoisseurs. We're heading from the polished sands of Astir Beach Vouliagmeni to the next sun-drenched haven on our list. Hold onto your straw hats because we're off to Voula Beach, a place that doesn't just sound like it's been pulled out of a Greek mythology tale but looks the part too.
Voula Beach, or as the locals might say, "Voula Beach A" and "Voula Beach B", is nestled in the south of Athens. If the idea of there being two beaches with almost the same name sounds confusing, that's because it is. But fear not, I'm here to help you navigate the ABCs of Voula Beach.
Getting to Voula Beach is a breeze. If you're driving from Athens, it's just a scenic cruise along the coastal road, and yes, there's parking nearby, so there is no need to perfect your parallel parking skills just yet. If you're relying on public transport, just hop on a tram or bus heading south – it's as easy as saying "souvlaki".
Now, if you were to ask an Athenian what they love about Voula Beach, they'd probably laugh and say, "What's not to love?" The beach is well-organised, offering the kind of seaside experience that feels like you've stepped into a high-end resort but without the high-end price tag. The sands here are so clean you could eat your baklava off them, although I'd recommend sticking to a picnic blanket – sand in your pastry isn't the best.
Voula Beach, just like a considerate party host, has thought about everyone. It's a dream destination for families, with shallow waters, a playground, and enough space for a fun game of beach volleyball. Nudism? You should stick to your swimsuit here, as it's not quite that kind of party.
When it comes to watersports, Voula Beach is no slouch. Fancy a bit of windsurfing or a splash about on a pedalo? You're in the right place. However, it's not really the place for diving enthusiasts – no hidden Atlantises here. A party beach, you ask? Let's just say Voula Beach is more of a chill-to-the-sound-of-the-waves-with-a-cocktail kind of place. There's also a lifeguard on duty, in case your impression of a mermaid or merman goes awry.
So there you have it, Voula Beach – a beach with a split personality, but in the best possible way. Whether you're looking to laze under the Grecian sun or get your heart pumping with some watersports, Voula Beach ticks all the boxes. Stay tuned, we've still got more Athenian beach gems to discover.
Alimos Beach (A' Akti tou Iliou)
For our third beach on my list of the top beaches in Athens, we're off to Alimos Beach, the beach with a name so fabulous they had to name it twice. Also known as 'A' Akti tou Iliou', or 'Sun's Coast' for those of us not fluent in the beautiful Greek tongue, Alimos Beach is a local favourite amongst the best beaches in Athens.
Tucked away just 11 kilometres south of Athens city centre, Alimos Beach is perfect for those who fancy a quick dip without straying too far from the urban action. Whether you're behind the wheel of a rental or taking the tram (Alimos Beach is just a short walk from 'Kalamaki' stop), getting there is about as challenging as a lazy Sunday afternoon – and there's parking, too.
Stepping onto Alimos Beach, you'd be forgiven for thinking you'd been magically transported to a tropical paradise. Its sandy shore and clear, inviting waters make it a sight for sun-starved eyes. But before you rush to make a sand angel, let's talk organisation. Alimos Beach is what I'd call 'well organised'. Sunbeds? Check. Umbrellas? Check. Lifeguard? Absolutely. Beach volleyball courts? Oh, you bet.
If you've got kids in tow, you're in luck. Alimos Beach is as family-friendly as they come. The shallow waters are perfect for the little ones to splash around in, and there's a playground that'll keep them entertained while you catch up on your tan. If you were hoping to enjoy a spot of nudism, though, you might have to save that for another beach – Alimos Beach is more about sandcastles and paddling than baring all.
For those of you with a thirst for thrills, the beach doesn't disappoint. It boasts an array of watersports – including windsurfing for those with a need for speed. Though it's not quite the place for diving enthusiasts, Alimos Beach delivers in spades if it's a slice of the social scene you're after. With its beach bars and vibrant atmosphere, it's got 'party beach' written all over it (not literally, of course).
In a nutshell, Alimos Beach, or 'A' Akti tou Iliou' if we're being formal, has something for everyone. Whether you're a sun-seeker, a family adventurer, or a party animal, it's a Greek gem worth discovering. So, slap on the sun cream, pack your best beachwear, and let's hit the sands of Alimos. Next stop on our coastal tour…Glyfada beach.
Glyfada Beach – One of the Best Beaches in Athens
Sunscreen at the ready because we're off to Glyfada Beach, where the sun shines brighter, the water is cooler, and your tan lines get a chance to truly show off.
Affectionately referred to as the 'Athenian Riviera', Glyfada Beach is just 15 kilometres south of Athens. This sandy slice of paradise, considered one of the best beaches in Athens, is accessible by tram, bus, or car, with 'Paralia Glyfadas' being your tram stop of choice. And, of course, there's parking – because I only want you to worry about whether you brought enough snacks for the day.
Now, let me paint a picture. Imagine golden sands, sparkling blue waters, and sunbeds as far as the eye can see. Glyfada Beach has a 'well organised' status that would make any event planner envious.
Families, listen up. Glyfada Beach is as child-friendly as they come.
There's enough sand for a small army of sandcastles, and the shallow waters are perfect for little feet. It's a no-go on the nudism front, though. Glyfada is all about family fun and sun loungers rather than embracing your inner Adam or Eve.
Thrill-seekers rejoice. From windsurfing to jet skiing, Glyfada has you covered. If you're more of a landlubber, there's also beach volleyball and tennis courts. Alas, diving enthusiasts, you should look elsewhere for your fix of the underwater world.
Let's talk about parties. Is Glyfada Beach considered a party beach? If beaches could dance, Glyfada would be the one throwing shapes until the early hours. With a vibrant nightlife scene and stylish beach bars, you can sip on your favourite cocktail while soaking up the atmosphere.
Rest easy knowing there's a lifeguard on duty to keep an eye out for anyone channelling their inner Ariel a bit too enthusiastically.
So, whether you're a sun worshipper, an adrenaline junkie, a family funster, or a night owl, Glyfada Beach is a one-stop shop for all your beachy needs. From its easy accessibility to its lively atmosphere, it's easy to see why it's a frontrunner in the race for the title of 'best beach in Athens'.
Still got some sunscreen left? Great. Stay tuned as we set our sights on the final stop on our grand Athenian beach tour. Can you guess where we're heading next?
Varkiza Resort Yabanaki Beach
Hold on to your flip-flops; our sun-kissed tour of the best beaches in Athens ends on a high note at Varkiza Resort Yabanaki Beach. The name may be a mouthful, but trust me, the beach is an eyeful.
Sitting pretty just 26 kilometres south of Athens, Varkiza Resort Yabanaki Beach is your one-way ticket to the blissful beach heaven. Reaching this seaside Eden isn't much of a conundrum; a straight drive down Poseidonos Avenue or a bus ride (bus number 171, to be precise) will drop you right there. And yes, there's parking — because no one wants a parking ticket to ruin their perfect beach day.
Unfolding before your eyes is a well-organised, sandy beach resort that brings together all the best bits of a Greek beach holiday. The beach is dotted with sunbeds and umbrellas that offer just the right amount of shade, and the lifeguard on duty ensures you can enjoy your splash-a-thon with peace of mind. If you were hoping to bare all in the Grecian sun, though, I'm afraid this isn't the place. Varkiza Resort is family-friendly, meaning it's more bucket-and-spade than skinny-dipping paradise.
Speaking of family-friendly, Varkiza Resort Yabanaki Beach is the kiddie heaven of Athenian beaches. With its shallow, turquoise waters and a playground, this beach is a sure-fire hit with the little ones. But that's not all. The resort is a bonanza of fun-filled activities, from beach tennis and volleyball to windsurfing and pedal-boating.
Those with a penchant for adrenaline-charged antics aren't left out either. The resort's Water Sports Club offers windsurfing, paddleboarding, water skiing and more. Diving, however, isn't on the cards here, so deep-sea explorers might need to continue their quest elsewhere.
Varkiza Resort doesn't sleep when the sun dips low — it dances. Beach bars and restaurants bring a vibrant party atmosphere to the shoreline, making it a contender for the title of 'best party beach' in Athens.
In essence, Varkiza Resort Yabanaki Beach is more than just a beach; it's an experience. So, pack your beach essentials, gather your favourite people and get ready to bask in the Greek sun at one of Athens' top beaches. It's the perfect finale for our beachy adventure, don't you think? As they say in Greece, 'Thalassa, ilios, ammos' — sea, sun, sand.
Sand Between Your Toes: That's a Wrap
Well, there you have it, beach bums. We've soaked up the sun, tasted the salt, and chased the waves across my choice of the top 5 beaches in Athens, Greece. We started our sandy adventure at the elegant Astir Beach in Vouliagmeni and frolicked our way through Voula Beach, Alimos Beach, and Glyfada Beach until finally, we ended up with a grand finale at Varkiza Resort Yabanaki Beach. Phew, that's quite the beachy ride.
Maybe now you can see that the lure of Athens isn't confined to its historic ruins, fascinating museums, and mouth-watering food. Much like a well-stuffed pitta, the city has something for everyone, and its beaches are no exception. Family-friendly sandy stretches? Check. Adrenaline-fuelled water sports? You bet. Unbeatable party vibes? Absolutely. All the ingredients for a perfect beach day, right?
Whether you're a die-hard beach aficionado, a thrill-seeking adventurer, or someone who simply loves the feel of sand between their toes and the wind in their hair, these beaches offer all that and more. So pack your sunscreen, grab that novel you've been meaning to read and prepare to lose yourself in the laid-back, sun-kissed vibe that makes Athens' beaches so irresistible. You can even take your most enormous and floppiest hat.
Remember, every beach has its own character, and the best way to pick your favourite is to visit them all and remember that the only thing you should leave behind is your footprints.