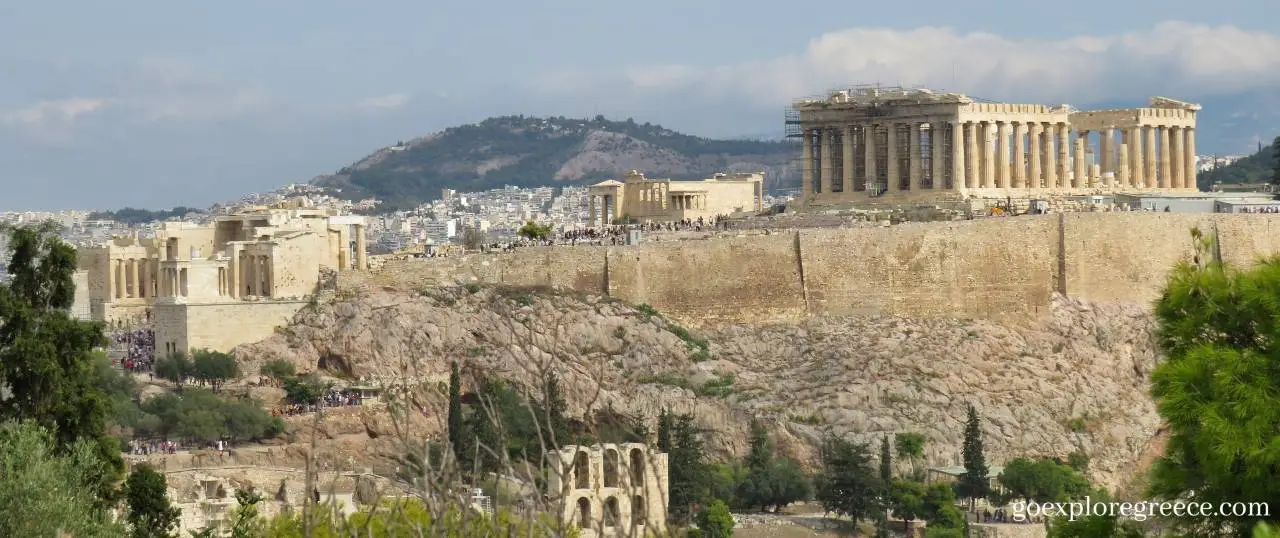 Great for views and perhaps the best place for photos of the Acropolis of Athens.
All About
What to See
What to Photo
My Tips
Disability Ok?
All About
If there's one place in Athens that captures the history, culture, and jaw-dropping views over the city, it's Filopappou Hill, also known as Philopappou, Philopappou Hill, or Philopappos Hill. It's also sometimes referred to as the Hill of the Muses or Mouseion Hill, as it was believed in ancient times to be the home of the Muses, the Greek goddesses of the arts and sciences.
Now, you might be wondering, "What's so special about a hill?" Well, let me tell you, my friend. Filopappou Hill is not just any ordinary hill. It's a magical place that will leave you awestruck, inspired, and itching to return for more. So, buckle up as I take you on a journey through the wonders of Filopappou Hill and why it should be at the top of your Athens bucket list.
Situated in the neighbourhood of Thissio (or Thisseio), it's just a stone's throw from many of the most popular things to see, including the Acropolis Museum and the Ancient Agora of Athens. It's also extremely close to Monastiraki, an area known for its charming streets, neoclassical architecture, and lively atmosphere, featuring numerous cafes, restaurants, and bars.
Firstly, let me tell you about the views from Fillopappou Hill as they are absolutely breathtaking. As you make your way up the hill, you'll be greeted with panoramic vistas of the city, including the Acropolis of Athens and the Parthenon. And let me tell you, there's nothing quite like watching the sunset over the ancient ruins, casting a warm golden glow over the city below. It's a sight that you'll remember for the rest of your life.
As you wander through Filopappou Hill, you'll be walking in the footsteps of ancient Athenians. The hill is home to the Philopappos Monument, an impressive marble structure built as a dedication to dedicated to Gaius Julius Antiochus Epiphanes Philopappos, a prominent Roman citizen and benefactor of Athens. As you explore the area, you'll encounter various other ruins, such as the ancient prison where Socrates was said to have been held before his execution. This unique connection to the past adds a whole new layer of depth and intrigue to your visit.
In the midst of Athens' bustling city life, Filopappou Hill serves as a serene oasis for nature enthusiasts. The hill is blanketed with lush greenery, fragrant pine trees, and colourful wildflowers. It's the perfect place to escape the hustle and bustle, take a leisurely stroll, or enjoy a peaceful picnic with your loved ones. Plus, you'll likely spot various birds, making it an ideal spot for birdwatching as well.
Whether you're a professional photographer or someone who loves snapping photos for Instagram, Filopappou Hill is a goldmine of photo opportunities. The dramatic backdrop of the Acropolis, the charming winding pathways, and the captivating ancient ruins all make for stunning shots that you'll be proud to share with your friends and family.
One of the best things about visiting Filopappou Hill is that it's off the beaten path, allowing you to experience a more authentic side of Athens. As you wander the hill, you'll come across locals going about their daily routines, walking their dogs, or taking in the views. This offers a unique glimpse into the lives of Athenians and a chance to connect with the local culture.
Despite being a tranquil escape from the city, Filopappou Hill is incredibly easy to access. Just a short walk from the Acropolis and the bustling Monastiraki Square, it's a convenient destination for tourists looking to experience a different side of Athens. And with well-maintained paths and signage, navigating your way around the hill is a breeze.
Filopappou Hill is a refreshing exception in a city filled with attractions requiring admission fees. You can explore the hill, monuments, and breathtaking views completely free. It's the perfect budget-friendly destination for travellers who want to make the most of their Athens experience without breaking the bank.
I would also recommend you pop into the magic and allure of the Holy Church of Saint Dimitrios Loumbardiaris. This hidden gem is nestled on the southern slopes of Filopappou Hill, just a stone's throw away from the iconic Acropolis of Athens. Trust me when I say a visit to this enchanting church is an absolute must when exploring the ancient city of Athens.
Filopappou Hill, with its serene atmosphere and stunning views, provides the perfect setting for some quiet reflection. Whether you're an artist seeking inspiration, a writer looking for a peaceful spot to pen your thoughts, or simply someone who wants to take a moment to appreciate the beauty of the world around you, this hill offers a calming retreat from the busy streets of Athens.
For those who love combining their sightseeing with a bit of exercise, Filopappou Hill is the perfect place to break a sweat. The incline of the hill, combined with the winding pathways, provides a challenging yet rewarding workout. And with the stunning views and ancient ruins surrounding you, staying motivated and pushing yourself that extra mile is easy.
Lastly, one of the best things about Filopappou Hill is that it can be enjoyed year-round. While Athens is undoubtedly at its most vibrant during the summer months, the cooler temperatures of spring and fall make for a more comfortable climb. The hill retains its charm even in winter, with the crisp air and moody skies providing a unique atmosphere.
So there you have it, if you ever find yourself in Athens, make sure to carve out some time to visit the enchanting Filopappou Hill. Whether you're a history buff, a nature lover, or simply someone who appreciates a stunning view, this magical hill will leave you spellbound and create memories that will last a lifetime.
What to See
What to Photo
My Tips
Disability Ok?