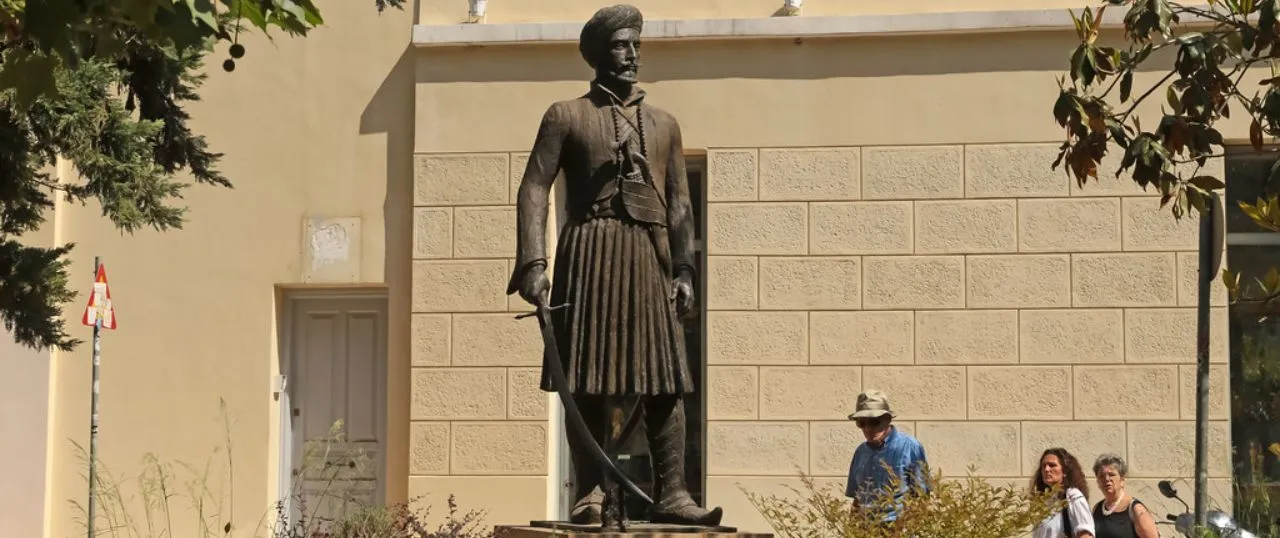 Ioannis Makriyiannis Statue
Guarding the entrance to Plaka neighbourhood is the Ioannis Makriyiannis Statue.
All About
What to See
What to Photo
My Tips
Disability Ok?
All About
"Who says real men can't wear skirts? Situated just a brief two-minute walk from the Acropolis Museum and the Acropolis of Athens is the striking Ioannis Makriyiannis Statue, depicting the General himself proudly sporting a traditional skirt-like garment.
With a calm demeanour and his curved sword at the ready, General Makriyiannis appears to stand guard at the entrance to the enchanting Plaka neighbourhood. Many passersby may not immediately recognize who he was or what he symbolized, so let's delve deeper into the story of this remarkable figure, shall we?
Born in 1797, General Ioannis Makriyannis hailed from humble beginnings, growing up in a poor family and witnessing his father's tragic death when he was seven. Life was tough, but young Ioannis was determined to overcome his challenges.
At 14, he embarked on a journey to Epirus, dreaming of seeking his fortune and a brighter future. During this time, he joined the Greek Revolution fight, driven by a passion for his homeland and its people. His dedication and skill on the battlefield were undeniable, and he quickly climbed the ranks, becoming a General in 1824 at the young age of 27.
When peace eventually returned, General Makriyiannis relocated to Athens, where he purchased a farm beneath the Acropolis. Here, he began his next chapter as an influential and outspoken politician. Among his many accomplishments, he played a significant role in establishing the first Constitution of the Kingdom of Greece, demonstrating his unwavering commitment to the country's progress.
Not one to shy away from challenging authority, Ioannis Makriyiannis was unafraid to criticize anyone, even the reigning King Otto. In 1853, he was arrested and charged with conspiracy against the King in what many historians consider a pre-fabricated trial. The prosecution relied on false testimonies and fabricated evidence, and the tribunal president, Kitsos Tzavelas, was a known personal enemy of General Makriyiannis.
Despite these circumstances, five of the six judges voted for a death sentence. They requested that the King grant royal clemency. In an unexpected turn of events, King Otto commuted the sentence to life imprisonment. However, General Makriyiannis would only spend 18 months behind bars before regaining his freedom.
Intriguing, isn't it? The life of General Ioannis Makriyiannis was undoubtedly filled with adventure, bravery, and resilience. The next time you find yourself wandering the streets of Athens, be sure to pay a visit to this inspiring statue. Take a moment to appreciate the incredible journey of General Makriyiannis and how his dedication to his country continues to influence and inspire the people of Greece today.
What to See
What to Photo
My Tips
Disability Ok?