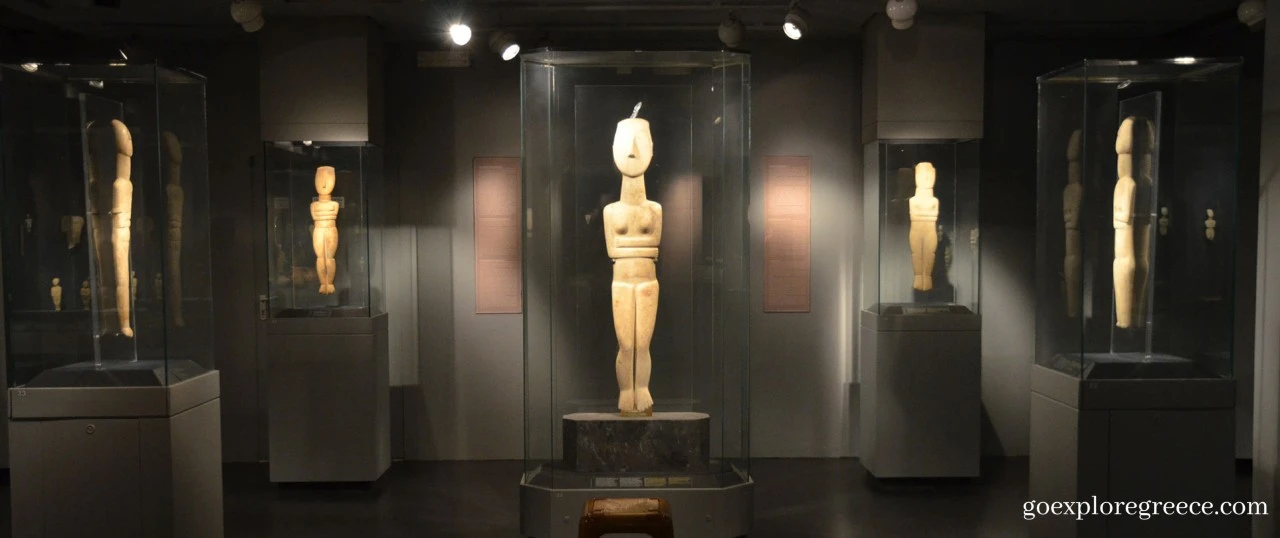 Explore 5,000 years of history at Athens' captivating Museum of Cycladic Art
All About
What to See
What to Photo
My Tips
Disability Ok?
All About
When planning your trip to Athens, one of the top things to do in this ancient city is to explore its many world-class museums. Among the best museums in Athens, the Museum of Cycladic Art stands out as a must-visit attraction, offering a unique perspective on the region's rich cultural history. In this piece, I'll be sharing everything you need to know about this fascinating museum, highlighting why it should be high on your list of things to do in Athens.
Nestled in the heart of Athens and just a few minutes walk from the Benaki Museum, the Museum of Cycladic Art is conveniently located in the upscale neighbourhood of Kolonaki. The museum, also known as the Nicholas P. Goulandris Foundation Museum of Cycladic Art, is just a stone's throw away from Syntagma Square, making it easily accessible for visitors. Founded in 1986 by Nicholas and Dolly Goulandris, the museum was established to preserve and showcase the couple's extensive collection of Cycladic art. These priceless artefacts represent a significant part of ancient Greek history and offer a window into the lives of the people who once inhabited the Cyclades, a group of islands in the Aegean Sea.
One of the primary reasons the Museum of Cycladic Art is considered among the best museums in Athens is its collection's sheer quality and diversity. The museum's exhibits focus on the Cycladic, ancient Greek, and Cypriot cultures, with more than 3,000 artefacts on display. These artefacts span over 5,000 years of history, from the Neolithic period to the Byzantine era, making it an ideal destination for history buffs and art enthusiasts alike.
As you explore the Museum of Cycladic Art, you'll be captivated by the iconic Cycladic figurines, which are one of the museum's main attractions. These marble figurines, dating back to the early Bronze Age (around 3200 to 2000 BCE), are characterised by their simple, geometric forms and have inspired numerous modern artists, such as Pablo Picasso and Constantin Brancusi. The museum's extensive collection of these elegant figurines is unmatched, making it a truly unique experience among tourist attractions in Athens.
Beyond the Cycladic figurines, the Museum of Cycladic Art also boasts an impressive array of ancient Greek artefacts, providing a comprehensive overview of the different periods of Greek history. From pottery and sculpture to jewellery and weaponry, the museum's collection highlights the incredible artistry, skill, and craftsmanship of the ancient Greeks while also offering insight into their daily lives and religious practices.
In addition to its remarkable collection of artefacts, the Museum of Cycladic Art is also known for its engaging and informative temporary exhibitions. These exhibitions often focus on specific aspects of ancient Greek and Cypriot cultures, providing a deeper understanding of the region's history, art, and archaeology. By hosting these thought-provoking exhibitions, the museum ensures that there is always something new and exciting for visitors to discover, making it one of the top activities in Athens for those with a keen interest in history and art.
The Museum of Cycladic Art is a treasure trove of ancient artefacts and a beautifully designed space that enhances the visitor experience. With its spacious, well-lit galleries, visitors can fully immerse themselves in the captivating world of Cycladic, ancient Greek, and Cypriot cultures. The building combines a neoclassical mansion and a modern wing, providing a striking contrast between old and new, setting the stage for an unforgettable journey through time.
Visiting the Museum of Cycladic Art is not only an opportunity to learn about the ancient past but also a chance to understand the connections between these historical cultures and contemporary art. The museum's dedication to showcasing the influence of Cycladic art on modern artists adds another layer of intrigue and fascination to the experience, making it one of the most unique attractions in Athens.
Whether you're a history enthusiast, an art lover, or simply someone looking for a memorable and enriching experience, the Museum of Cycladic Art should undoubtedly be on your list of must-visit tourist attractions in Athens. With its unparalleled collection and beautifully designed space, it promises to captivate and inspire visitors worldwide, leaving a lasting impression that will undoubtedly be one of the highlights of your trip to this incredible city.
So, if you find yourself wondering what to do in Athens, take advantage of the opportunity to immerse yourself in the captivating world of the Museum of Cycladic Art. It is a testament to the region's vibrant and diverse cultural heritage, and a visit to this exceptional museum is sure to be an unforgettable and enriching experience that will make your trip to Athens truly memorable.
What to See
What to Photo
My Tips
Disability Ok?