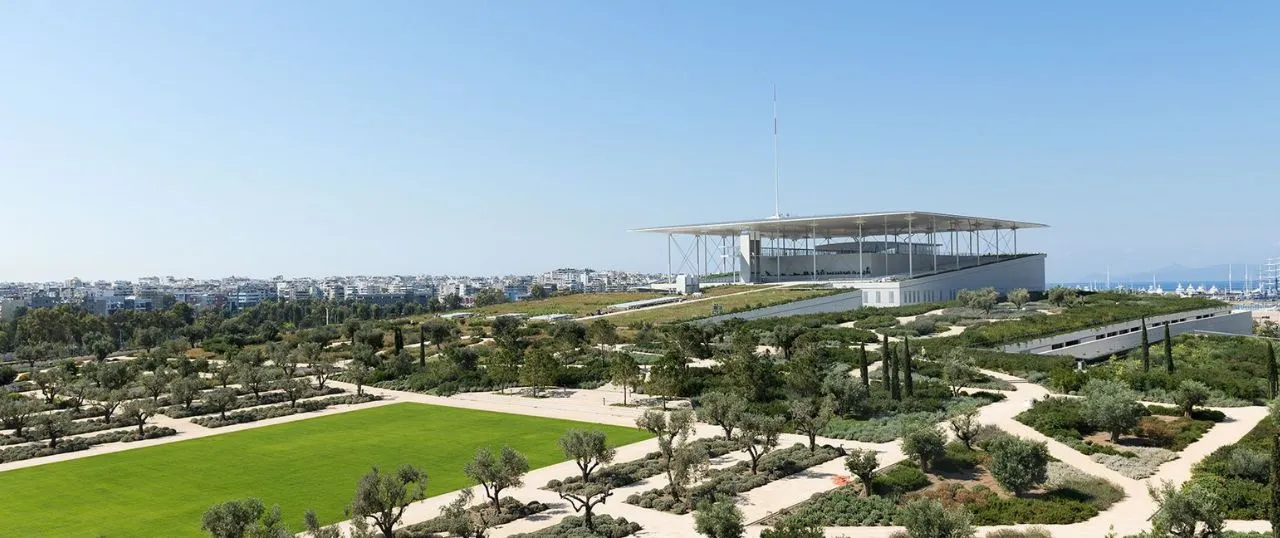 Get lost in the lush Mediterranean gardens of Stavros Niarchos Park.
All About
What to See
What to Photo
My Tips
Disability Ok?
All About
I cannot help but be captivated by the beauty and serenity of Stavros Niarchos Park. If you're looking for a place to unwind and escape the hustle and bustle of Athens, Greece, this park is worth visiting. It features some of the most stunning gardens and parks in the area and offers many activities that cater to people of all ages and interests. A visit to Stavros Niarchos Park should be at the top of your list of things to do in Athens.
Stavros Niarchos Park is situated in the Kallithea district of Athens, Greece, just a short distance from the city centre. The park is easily accessible via public transport, making it a popular destination for those visiting the city. As a lover of gardens and parks in Athens, I can tell you that the park's location is truly unbeatable, offering a serene oasis amidst the bustling city.
One of the first things that struck me about Stavros Niarchos Park is its size. Spanning over 170,000 square metres, the park offers a vast expanse of greenery and open space, perfect for those who want to stretch their legs and take a leisurely stroll. The park has been designed to seamlessly blend into its surroundings, providing an urban oasis within the bustling city of Athens. The lush, verdant gardens in Athens often leave visitors in awe, and Stavros Niarchos Park is no exception.
As I meandered through the park, I was struck by the sheer diversity of flora and fauna. Stavros Niarchos Park celebrates Greece's rich botanical heritage, from the aromatic herb gardens to the olive and pine groves. With over 1,500 Mediterranean plants and trees, the park is a haven for nature lovers. It offers an unforgettable experience for those seeking to connect with the natural world.
But what truly sets Stavros Niarchos Park apart from other parks in Athens is its commitment to sustainability and environmental awareness. The park's innovative design incorporates energy-efficient technology and measures to conserve water and reduce waste. As a visitor, you can't help but feel a sense of pride in supporting a space that is so dedicated to preserving the environment for future generations.
Unlike the Zappeion Garden, the park is not just about the gardens and parks; it is also home to the Stavros Niarchos Foundation Cultural Centre (SNFCC), a must-see for anyone visiting Athens, Greece. This state-of-the-art facility houses the National Library of Greece and the Greek National Opera, providing a cultural hub for the city. The stunning architecture of the SNFCC is a sight to behold, with its glass facades and sweeping lines creating a sense of harmony with the surrounding park.
Another reason Stavros Niarchos Park is a must-visit destination is the array of events and activities. There is always something happening at the park, from outdoor concerts and theatrical performances to art exhibitions and educational workshops. Whether you're a music, dance, or the visual arts fan, you'll find something to pique your interest and provide an unforgettable experience.
One of my favourite aspects of Stavros Niarchos Park is the many spots to relax and unwind. I have spent countless afternoons lounging on the lush lawns or sipping a coffee at one of the park's charming cafes, watching the world go by. With numerous picnic areas, cafes, and restaurants, there are plenty of places to sit down, enjoy a meal, and take in the park's beauty.
For more active people, Stavros Niarchos Park offers numerous sporting facilities, including jogging and cycling paths, and a state-of-the-art fitness centre. I've enjoyed countless early morning jogs and evening bike rides around the park, taking in the stunning views and breathing in the fresh air.
What to See
What to Photo
My Tips
Disability Ok?